Does the internet do more harm than good to the gay community?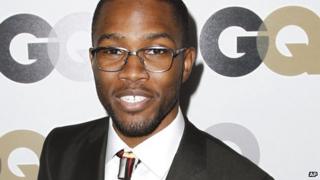 Oreo cookies spark anti-gay online comments and are followed by a homophobic backlash against a rising New Orleans-based star.
Do these recent events prove the internet fuels intolerance against homosexuals and bisexuals, or is it the key to gay pride and the catalyst for equal rights?
"It was my first love. It changed my life," wrote hip-hop artist Frank Ocean on his blog a fortnight ago.
It was the first time he had stated in public that he had had feelings for another man.
Before long websites had been created with titles including "Hate tweets to Frank Ocean" gathering together responses culled from public posts.
While some messages were supportive, many included threats using language that gay communities have cited as homophobic - pledging not to listen to his music and promising to stop following him on social media until he "stopped being gay".
The ill will followed another controversy sparked by Kraft Foods on Facebook.
The US snacks maker had pledged its support for gay pride just over a week earlier with a picture of a cookie with a rainbow-coloured filling on its Oreo marketing page.
The post attracted more than 20,000 comments.
Many applauded the firm but some swore that they would never buy the biscuit again, that Oreo had no business talking about sexuality and that its effort was "disgusting".
'Double standards'
Homophobic sentiment is simple to find on the web. Public messages have threatened to put children up for adoption if they were homosexual, discussed teaching a son to "beat up gays" and claimed that homosexuality is "a disease that will kill you".
For a young person struggling to come to terms with his or her sexuality, the gay community thinks that this sort of language, whatever its intent, causes a great deal of harm.
"[The use of the word gay] is the one thing that hasn't changed," says Ruth Hunt, director of public affairs at gay equality charity Stonewall.
"98% of young people still hear 'that's so gay, you're so gay'.
"What they tell us is that if they grow up thinking that gay is rubbish, then they realise they are gay, it doesn't make them feel better to know that this word is used and they see double standards."
Some feel it remains too easy for people to post anonymous comments, knowing that efforts will only be made to identify them under the most extreme circumstances.
"It is unlikely the new law will be used frequently," Jessica Geen, of Pink News, wrote in 2010 about the introduction of a criminal offence in England and Wales outlawing incitement to hatred on the grounds of sexual orientation.
"Similar laws against inciting racial hatred have only been used around 20 times in the 30 years since they came into force."
Grindr capital
But while the net provides a forum for prejudicial comments it also offers an opportunity to combat them and enjoy a homosexual or bisexual lifestyle.
Kraft noted after its Oreo Pride campaign that "positive comments have far outnumbered any negative comments". Search firm Google also recently organised a Legalise Love Conference , while about 400 Facebook staff took part in a San Francisco Pride march.
"Homosexuality is a lot more free than it was 10 years ago," says Joel Simkhai, founder of Grindr, a mobile app targeted at gay men, and a homosexual himself. "The web has been helpful with that."
Grindr is an app that shows photos and information about members in the vicinity of the user, providing a tool to assist meet-ups.
London, the company says, has become the app's capital of the world, with 350,000 users. Globally, it says it has over four million members, a quarter of whom are active every day.
"I don't know where I would be if I didn't have the web," says Mr Simkhai.
"Maybe I would be 'closeted' longer, maybe I would be married with a woman, there are millions of men that have married women because they couldn't come out.
"For me, the web was so helpful to that process. It empowered me to say 'I'm not different', that's what the web gave me. I suspect it gives that to a lot of people."
No escape?
But despite talk of progress some charities remain concerned.
"What young people tell us is that they can't escape on the web," says Stonewall's Ms Hunt.
"You get home, you log in and you're trying to do your geography homework and someone's calling you a poof and that's hard.
"It's the fact that there's no respite that's the problem."
A sizeable minority, 23% of homosexuals being bullied have attempted to commit suicide, according to Stonewall's figures. That compares to 7% of the heterosexual community.
The internet is easy to use to attack people, something that is often referred to as trolling, whereas finding help online can prove tricky.
"One of the big problems about gay information is that it does not get through firewalls," adds Ms Hunt.
"Schools and hospitals block the words 'gay' and 'lesbian'.
"We really want to provide something they can access at school, can access on their smartphone, to counteract all the stuff that's out there that's negative."