Shackleton and Scott's Antarctic huts are put online by Google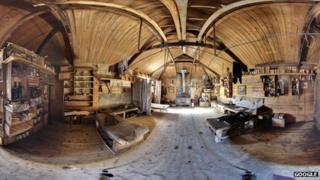 Images of the Antarctic huts used by polar explorers Sir Ernest Shackleton and Robert Falcon Scott have been posted online as part of the latest extension to Google's Maps service.
The prefabricated wooden cabins were erected in 1908 and 1911 respectively, and were used as bases for the men's attempts to reach the south pole.
Users can navigate the 360-degree photographs to see some of the kit and supplies used by both expeditions.
The locations appear well-preserved.
The buildings have benefited from ongoing conservation work by the New Zealand-based Antarctic Heritage Trust, which co-operated with Google on the project.
Both structures had previously appeared on the World Monuments Watch List of the most endangered sites in the world.
Frozen food
Shackleton's hut is located at Cape Royds, where the explorer and nine other team members left their ship, the Nimrod, to stay during the winter.
It still houses about 5,000 of the team's personal possessions including books, clothing and canned food, which have been preserved by the cold temperatures.
Shackleton's expedition was the first to climb the volcano Mount Erebus, but bad weather and diminished supplies caused them to turn back about 156km (97 miles) before reaching the south pole. Nevertheless this was the furthest south anyone had reached at the time and the group returned to the UK as heroes.
Scott's base at Cape Evans was erected three years later and still contains more than 8,000 artefacts from his doomed adventure.
Boxes of Tate sugar cubes, Heinz Tomato Ketchup bottles and clothing can be seen in the uploaded pictures from the location.
Scott and four others did reach the pole in January 1912 but found they had been beaten to there by a Norwegian party led by Roald Amundsen. The members of Scott's party died as a result of the freezing conditions during their return journey.
Google said it had carried out the fish-eye lens photography project to provide school children and others with an "insight into how these men lived for months at a time".
In addition to the two huts it has also added images of the Ceremonial South Pole - where flags can be seen planted by the various teams that reached the spot - as well as the Cape Royds Adelie Penguin Rookery.