YouTube launches face-blurring tool to hide identities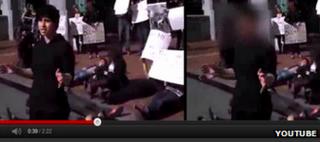 YouTube has added a tool which automatically blurs out the faces of people appearing in uploaded videos.
It said the function would be of use to activists wishing to share footage of protests involving participants who wanted to remain anonymous.
It hinted other features would follow, describing the move as "the first step towards providing visual anonymity".
But it added that its code could not be guaranteed to work in all instances and that other safeguards might be needed.
"This is emerging technology, which means it sometimes has difficulty detecting faces depending on the angle, lighting, obstructions and video quality," the Google-owned site said on its blog .
"Because human rights footage, in particular, opens up new risks to the people posting videos and to those filmed, it's important to keep in mind other ways to protect yourself and the people in your videos."
Users who wish to use the function must first upload their footage before selecting one of the site's Video Enhancement tools. They are then given a chance to see a preview of the blurred footage before making the version available to others.
Risk and reward
Google has previously used similar technology to blur faces and car numberplates captured by its Street View vehicles.
However, limitations with the technology mean that in many instances sketches of Kentucky Fried Chicken's mascot, Colonel Sanders, have been blurred out on the restaurant chain's buildings while in other cases people's faces have been missed when they appear on its Maps service.
Nevertheless, one London-based campaign group welcomed the news.
"Publishing videos online is a very effective way for charities and NGOs [non-governmental organisations] to show the world their work and attract support, but it has historically been difficult to do without invading the subjects' privacy or placing them at serious risk," said Emma Draper from Privacy International.
"Simply identifying certain people in certain situations - refugees, for example, or rape victims - can put them or their families in danger of their lives.
"While some companies are pouring resources into creating more accurate and more pervasive facial recognition systems, it is heartening to see YouTube take a step in the opposite direction."