PC sales weaken on economic woes and mobile devices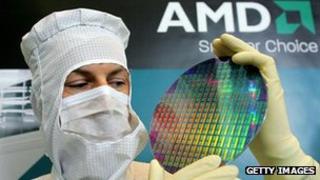 AMD (Advanced Micro Devices) has become the latest firm to warn of weaker-than-expected PC sales.
The US computer chip maker highlighted China as an area of particular concern.
The news follows a report by research firm IDC which suggested PC shipments to Asia Pacific had begun to shrink between April and June.
Economic uncertainty, the rise of mobile devices, the dollar's strength and the upcoming release of Windows 8 have all been linked to the trend.
AMD discussed the problem in a conference call after it posted $37m (£23.6m) of net income for its second quarter representing a 39% drop on the previous year.
The company's shares closed down 13% following the news.
"It is clear that global economic activity is slowing, and this is impacting the PC market," chief executive Rory Read said, according to a transcript published by financial site Seeking Alpha .
"For the first time since 2001, client PC shipments have declined sequentially for three consecutive quarters and have been below historical averages for the last seven quarters.
"We expect macro headwinds will continue for the third quarter. We also believe the PC industry may be resetting to a new baseline and that full year industry growth estimates will be reduced."
He added that weak sales of chips designed for desktop computers had first become evident in China before "spreading across the globe".
Asia alert
The comments align with an IDC study which suggested that 30.7 million PCs were shipped to Asia Pacific, excluding Japan, between April and June. That marks a 1% fall on the same period last year.
"Ongoing turbulence in western economies has finally caught up with markets in this part of the world as well, with distractions from competing product categories like smartphones and tablets not helping matters either," said the firm's market analyst for the region, Avinash Sundaram.
His figures suggested that US PC-makers had been worst-affected, with Hewlett Packard seeing a 19% drop in demand, and Dell an 18% drop.
IDC's figures suggest that PC sales did grow in Europe, the Middle East and Africa over the same period, but only in light of poor figures the previous year.
Stronger dollar
The news follows concerns raised by the world's biggest PC chipmaker, Intel, on Tuesday.
Its chief executive, Paul Otellini, said October's Windows 8 system software release should boost PC sales to consumers later in the year, but in the meantime the industry faced challenges.
"What we had expected that we would see by now is that the US and Western consumer businesses would be recovering from the sort of softness that we've seen for several quarters... [we are] not seeing that," he said.
"In terms of China and Brazil... Russia and India - in some of the countries we're seeing the prices of computers go up as a result of the currency fluctuations against the dollar. Most PC components including ours are sold globally in dollars and the PCs are typically priced in dollars.
"So we add all those together plus the fact that enterprise is doing pretty good, you come down to a more muted growth scenario than we first thought."