Canon mirrorless compact system camera announced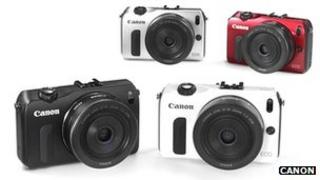 Canon has announced its first "mirrorless" compact camera to work with a range of interchangeable lenses.
The device offers users image quality and a degree of control over their pictures previously restricted to bulkier models.
It marks the last of the big camera makers to offer such a device - Nikon, Sony, Panasonic, Fujifilm and Olympus already sell competing kits.
Canon's move should bolster one of the fastest growing segments of the market.
The firm said that it planned to manufacture 100,000 EOS M cameras a month and would put the equipment on sale from mid-September.
Optional viewfinder
Mirrorless interchangeable-lens kits, also known as compact system cameras (CSCs) tend to use the same sized sensors commonly found in bigger single-lens reflex (SLRs) cameras.
These are larger sensors than those found in other compact cameras allowing less "noise" - digital photography's equivalent of grain - particularly under low light conditions.
When combined with large aperture lenses they also make it easier for photographers to isolate their subject, with other objects put out of focus in what is termed a shallow depth of field.
Part of the reason SLRs are so large is that they include a mirror, so that when the user looks through the viewfinder they see straight out of the attached lens. This was designed to help photographers compose their shot accurately.
By contrast CSCs do away with the optical viewfinder. Some models offer a viewfinder containing a highly detailed electronic image, while others - including the Canon model - rely on the user composing their shots using an LCD screen on the device's rear.
'Less scary'
At a time when cameras built into smartphones are eating into the low-end camera market, manufacturers are looking to give shoppers a reason to invest in specialist equipment.
But Damien Demolder, editor of Amateur Photographer magazine, told the BBC there had long been demand for CSCs.
"Panasonic was the first to enter this market at the end of 2008 and they originally said this was a step up compact camera users could take," he said.
"You effectively have the controls of an SLR in a more compact, more portable body which doesn't appear so scary. We noted at the time that this would also appeal to existing SLR users who wanted to carry a second camera with them.
"I think what you'll now see is the CSCs kill off the lower end of the SLR market."
SLR replacement
CSCs already account for about a third of all sales of interchangeable camera models in Japan. In the US, the figure is closer to a tenth, while the UK is somewhere in between, according to Mr Demolder.
The models have an added advantage in that they can be used with existing SLR lenses via adapters - as well as more compact versions designed specifically for the new kits. This helps encourage photographers who have already own many lenses to try them out.
Damien Lovegrove has been a freelance photographer for three decades and says his Fujifilm mirrorless camera has now replaced an SLR camera on many of his day-to-day jobs.
"These cameras give us a tool that makes it easier to shoot on the street, take pictures of subjects in a much more relaxed manner and can be carried all the time without the bulk of having an SLR," he said.
"But if you want sport, action, children running around or pictures of the moon you still need a big lens, and in that case you wouldn't want a small camera behind it which has been designed to be held at half-arm's length, because you would risk camera shake."