Sponsored software helps artists profit from BitTorrent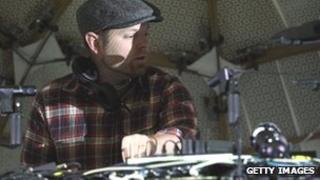 A new scheme aims to enable artists to profit from users who download their work for nothing via BitTorrent.
Typically music obtained via BitTorrent downloads is pirated and, according to the record industry, costs it millions in lost revenue.
The experiment, devised by the makers of the popular file-sharing software uTorrent, will encourage users to install sponsored applications.
Both the artist and BitTorrent Inc would receive a cut of the proceeds.
However, one analyst said the scheme was unlikely to succeed.
The idea is being trialled by American hip-hop producer DJ Shadow with his latest release Total Breakdown: Hidden Transmissions From The MPC Era 1992-1996 .
When users download the release, it will ask them whether they want to install RealPlayer, a media player which was widely used during the late 1990s and early 2000s, but has since dipped in popularity compared with Apple's iTunes and Windows Media Player.
However, users can still listen to the downloaded music without installing the sponsored software, which works only on PCs.
'Drive profitability'
"We believe we can make digital distribution even more viable for creators and fans," said BitTorrent chief executive Eric Klinker, as quoted by blog Torrentfreak .
"So, beginning now, we'll be testing new ways to drive profitability for creators while delivering even more meaningful media experiences for our users."
BitTorrent is a method of obtaining files - not just music - by downloading from many users at the same time.
It means authorities struggle to prevent illegal downloading as the files originate from an ever-changing source.
Ben Rumley, an analyst at Enders Analysis, said this latest idea to gleam money from BitTorrent users faced problems.
"I struggle to see quite why people are going to click on it and then generate sponsorship money," he said.
"If you're specifically going down that route to find music I can't see why you'd want to download another application unless it was really relevant to what you were doing."
Legal solutions
BitTorrent's Mr Klinker added that there were other schemes his company was considering to try to help artists make money out of the business.
The company already offers a paid version of its client uTorrent. The free version has more than 150 million users worldwide.
"New business models built on top of the BitTorrent ecosystem are the future of content," Mr Klinker said.
"This is where fans are. It's time to bring artists, film-makers and game developers into that conversation in meaningful ways, too."
Echoing many experts in limiting piracy, Mr Rumley said legitimate new ways of serving music legally should be backed.
"Clearly getting some money out of these people is better than nothing, but the focus needs to be trying to drive users to legitimate services.
"When you have services such as Spotify and others, it's in the record companies' interests to support legitimate businesses who go to them first and work deals out."