World of Warcraft Mists of Pandaria released in autumn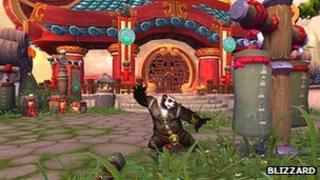 World of Warcraft's Mists of Pandaria expansion pack has been given a release date of 25 September.
It will be the fourth extension to the video game and is designed to keep players interested in the title which is nearly eight years old.
Activision Blizzard last reported that the game had 10.2 million subscribers at the end of March, down from more than 12 million in 2010.
The news comes at a time of uncertainty for the games publisher.
Its majority shareholder - France's Vivendi - has reportedly hired two investment banks to sound out buyers for its 60% stake in the business.
Reuters reported that Microsoft, Apple, Facebook, Time Warner and Chinese internet giant Tencent have all been approached but none had been willing to meet an asking price of over $10bn (£6.5bn).
It said that Vivendi was now considering lowering its target price and could end up selling the stake to Activision Blizzard's executives if they could secure the cash for a management buyout.
Battle for subscriptions
The Mists of Pandaria update will allow players to "uncover the ancient mysteries" of a lost continent populated by panda bears skilled in martial arts.
It will be made available both via retailers and online, in either a standard edition or deluxe version, featuring a book and music CD.
Activision Blizzard said WoW remained the "world's most popular subscription-based massively multiplayer online role-playing game", but it faces competition from newer rivals.
EA has invested heavily in its Star Wars: The Old Republic; Funcom recently released The Secret World - a title inspired by the horror writer HP Lovecraft; and both Arenanet's Guild Wars 2 and Bethesda's Elder Scrolls Online are on the horizon.
Most hardcore gamers only had time to properly play one MMORPG at a time, said Ed Barton, director of digital media at Strategy Analytics. But he said the new release should secure loyalty to WoW for several years to come.
"There are some very strong rivals with heavy funding behind them," he told the BBC.
"But as we have seen in the past when the title is faced with such competition there is a downward spike in subscribers, but most return as soon as an update is released.
"The bigger threat is Activision Blizzard's next MMORPG, codenamed Titan, which we expect to be released in 2015. We know the firm's key creative teams are now working on that rather than World of Warcraft itself."
Film director changed
WoW may get a further boost from the release of a live action movie based on the game's universe.
Spider-Man trilogy director Sam Raimi had originally been involved with the project, but recently told the news site Crave Online that production company Legendary Pictures had replaced him after he had become involved in a Wizard of Oz prequel.
"[They] don't have me directing World of Warcraft any more because when I took the Oz job, they had to move on to another director," he said. "They had to start making it."