Microsoft buys large-screen maker Perceptive Pixel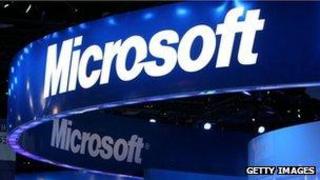 Computing giant Microsoft has completed the take-over of Perceptive Pixel, a firm that specialises in making large multi-touch wall-mountable screens.
Used for presentations, the screens, which can be up to 82in (202cm), can be controlled by both touch and stylus.
Microsoft says it hopes to use the technology to enhance its Windows 8 operating system.
One analyst said the move could lead to an upgrade of Microsoft's Kinect motion sensor.
US broadcaster CNN used the Perceptive Pixel (PPI) jumbo touch-sensing TV screen in 2008 to zoom in and out of a map during that year's election coverage.
The displays sell for up to $80,000 (£50,996).
Microsoft announced the deal on 9 July at a conference in Toronto, but confirmed its completion in a post on its blog .
"I'm excited to share that all closing conditions for Microsoft's acquisition of Perceptive Pixel (PPI) have been met, and the deal is completed," wrote Giovanni Mezgec of the Office division.
Microsoft chief executive Steve Ballmer said the deal "really opens up new possibilities for business, for education, for productivity, for learning and collaboration".
Forrester Research analyst Anthony Mullen agreed, saying the takeover, which follows the recent acquisition of workplace social network Yammer, showed the company's efforts to do more for businesses as well as for consumers.
"From a long-term view, this is a software and R&D [research-and-development] play-around multi-touch, with less focus on gestural technologies and screen hardware," Mr Mullen told the BBC.
"Kinect has been successfully crowd-sourcing rich models of gestural interaction for years, but may still benefit from some of the research-and-development work Perceptive Pixel bring to the table."
Microsoft Office division president Kurt DelBene said "PPI's large touch displays, when combined with hardware from our OEMs [Original Equipment Manufacturers], will become powerful Windows 8-based PCs and open new possibilities for productivity and collaboration".