Valve's Linux video games plan described as 'unethical'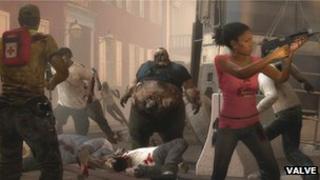 A leading PC-user rights campaigner has voiced concern about video games developer Valve's move to sell Linux-based versions of its products.
Richard Stallman - founder of the Free Software Foundation and the GNU operating system - said releasing DRM-protected games on the open-source platform would be "unethical".
Valve has described its support for Linux as a "hedging strategy".
Its boss has said the Windows 8 system would be a "catastrophe".
Gabe Newell is worried Microsoft's decision to sell software via its own Windows Store could dent the success of Valve's Steam marketplace, through which it sells titles created by itself and other developers.
Valve announced in July that it would initially support the GNU/Linux-based system Ubuntu.
Valve's games include DRM (digital rights management) technology to prevent users copying and distributing the games to others.
It also restricts users' ability to rewrite and amend their code, putting it at odds with other contributors to the open-source platform.
Threatening 'freedom'
Mr Stallman said Valve's move had both positive and negative implications.
"Non-free game programs (like other non-free programs) are unethical because they deny freedom to their users," he wrote on his blog.
"If you want freedom, one requisite for it is not having non-free programs on your computer.
"However, if you're going to use these games, you're better off using them on GNU/Linux rather than on Microsoft Windows."
Mr Stallman said that based on this, Valve's move was likely to do more good than harm, but he noted there was another factor.
"Any GNU/Linux distro [distribution] that comes with software to offer these games will teach users that the point is not freedom.
"Non-free software in GNU/Linux distros already works against the goal of freedom. Adding these games to a distro would augment that effect."
DRM approval
The Ars Technica news site, which first reported the story, noted Linux-based systems had historically been ignored by most major software houses, and enthusiasts had said Valve's step could help "legitimise" the platform.
Valve's use of DRM protection would also appear to have the blessing of the Linux kernel's creator, Linus Torvalds.
He said in 2003 it was "perfectly OK" if companies released software on the platform using the restriction, even if he did not "personally approve" of the idea himself.
But one analyst said that despite the passions involved, the issue was unlikely to have much impact on either the Linux or gaming communities.
"Gaming on Linux is incredibly small - it's not a particularly large market so both Gabe and Richard's comments are really evangelical ones," Strategy Analytics director of digital media Ed Barton said.
"Gabe is focused on sticking a rocket under Microsoft, while Richard is speaking from a long established point of view.
"For the rest of us, the universe will keep on turning as it's very difficult to imagine Windows 8 being so undesirable to Valve that it would choose to ignore it as a platform for Windows gaming. That's where the vast majority of users will be and it would be commercial suicide to do otherwise."