Twitter in the spotlight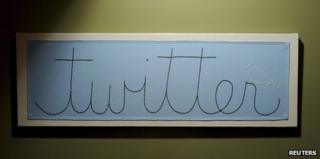 Right now, Twitter cannot seem to stay out of the headlines - and not in a good way. Whether it's the arrest of a teenager who abused the diver Tom Daley, the suspension of the account of a journalist who attacked NBC's Olympics coverage, or the attempt to unmask the person behind a spoof account mocking a newspaper executive, Twitter does seem to be on the back foot.
Wednesday morning brings news that, strangely, may come as a relief to the Californian company. A lawyer acting for the person behind @unstevedorkland has filed a motion to quash the disclosure order obtained by Northcliffe Media, and that means Twitter will now not be handing over details of the account to the British regional newspaper group.
To recap, Northcliffe had accused @unstevedorkland of impersonating its chief executive Steve Auckland, of sending out a stream of offensive tweets which amounted to harassment, and even of hacking into the company's computer systems. The account holder denied these allegations but until a pro bono lawyer stepped in to help, it looked as though Twitter would have no choice but to comply with the Californian court order and hand over the details on 1 August - today.
The motion to quash the order, lodged by Frank Sommer, the lawyer now acting for the man behind @unstevedorkland, makes for interesting reading. Having come across the story first on the BBC News website, then on other sites, Mr Sommer says nobody could possibly be tricked into thinking the real Steve Auckland was tweeting: "I have been unable to find any website that lists this controversy in terms of someone being deceived that any of the Twitter usernames listed in the subpoena are anything other than a satire on Mr Auckland."
In other words, Mr Sommer's case appears to be a defence of the right to satirise. It will get a full hearing in California on 2 September - if Northcliffe Media does not decide that the whole affair has got completely out of hand and it might be better to drop it quietly.
Meanwhile, Twitter has now acted to hose down another big controversy. The journalist Guy Adams, whose Twitter account was suspended after he revealed the email address of an NBC executive, has been reinstated. And in a blogpost, Twitter issued an apology of sorts, admitting that it was wrong to alert NBC to the offending tweet: "We do not proactively report or remove content on behalf of other users no matter who they are. This behavior is not acceptable and undermines the trust our users have in us."
It has to be said that many of those who supported Mr Adams still believe that publishing a corporate email address did not break the Twitter rule which says private information should not be disclosed.
But in reinforcing the message that it is not Twitter's job to police its users messages on behalf of powerful organisations, the company will hope to win back some trust. Until recently, the site was, like Google, seen as a champion of free expression. Both Californian companies have found that the bigger you get, the more brightly the spotlight shines on any claim to moral superiority.