Anonymous row as French company trademarks logo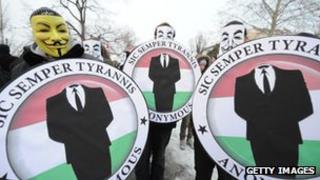 A French company that has trademarked the logo and slogan of Anonymous "will not go unpunished", the hacking collective has said.
Paris-based Early Flicker registered the distinctive image of a headless suited figure for use in France.
It also registered the phrase: "We are Anonymous, We do not forgive, We do not forget. Expect us."
In a YouTube video , Anonymous said it "will take down any business they have going on the internet".
"The 99% will not stop until the registration has been revoked and a public apology has been made," it continued, making reference to the Occupy protest movement in the US.
"The name of Anonymous will not be the whore of the world."
Guy Fawkes
The image of the headless, suited figure is synonymous with Anonymous' activities across the internet.
In "real" life, people who identify themselves as members of the collective often sport masks depicting the character of Guy Fawkes in the graphic novel V for Vendetta.
Early Flicker, which is also known as EFlicker, has begun selling T-shirts displaying the logo on its website. The company was unreachable for comment.
The product is listed in the site's "geek" section, along with other recognisable images used in comic strips on the internet.
In response, Anonymous has announced "Operation AnonTrademark", which calls for the the trademark to be cancelled.
France's trademark office, the INPI, has not yet responded to a request for comment.
Typically, Anonymous members attempt to disrupt the function of websites by co-ordinating a Distributed Denial of Service (DDoS) attack, which overloads the target's website to make it unusable.