Samsung patent press release annoys judge at Apple trial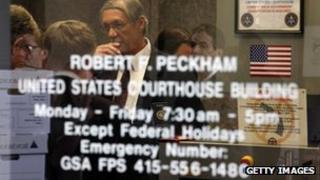 The judge in the Samsung-Apple patent trial has demanded to know who authorised a news release issued by the South Korean firm, publicising evidence she had ruled inadmissible in court.
Samsung's PR agency emailed a nine-page presentation to reporters on Tuesday.
It said the "excluded evidence would have established beyond doubt that Samsung did not copy the iPhone design".
Apple's lawyer called it an attempt to "pollute the jury".
The PowerPoint slides emailed to reporters contained quotes from Apple design inventor Shin Nishibori, in which he said he had been asked to make a prototype based on the idea "if Sony was to make an iPhone, what would it be like?".
Samsung had hoped to present the testimony as evidence that Apple's ideas had been heavily influenced by others, undermining its right to a design patent.
The email also sought to show that Samsung had created handset designs that looked similar to the iPhone - including its F700 model - months before Apple had unveiled its device.
Judge Lucy Koh had previously ruled the details should not be shown to the jury, as Samsung had presented them too late in the legal process.
A reporter from The Verge, who was in the court , said that the judge had become "livid" when Apple had brought the press release to her attention.
The Verge said the judge had demanded to know whether Samsung's lead attorney was aware of the release. She has given the firm until 09:00 local time in California on Wednesday (17:00 GMT) to provide an explanation.
Samsung did not provide more detail when contacted by the BBC.
Design disputes
The case centres on Apple's allegation that Samsung infringed seven of its patents and owes it $2.5bn (£1.6bn) in damages, and the South Korean firm's counter-claim that its rival has breached five of its intellectual properties and should be paying it an unspecified share of its mobile device revenues.
In its opening statements, Samsung's legal team alleged that many of the iPhone's features had been imagined by others before its release.
"Samsung is not some copyist, some Johnny-come-lately doing knock-offs," said its lawyer Charles Verhoeven.
"There's a distinction between commercial success and inventing something."
But Apple's lawyer said the design and user experience of the iPhone and iPad had been copied by its rival's Galaxy devices.
He questioned one of Apple's designers, Christopher Stringer, who told the courtroom: "We've been ripped off, it's plain to see... it's offensive."
The trial is due to resume on Friday, when Apple's vice president for marketing, Philip Schiller, is due to give evidence.