Google pulls Nexus Q media streamer after 'feedback'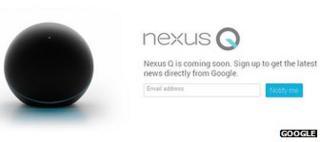 Google has sent its recently announced media-streaming device back to the drawing board following a series of critical reviews.
The firm unveiled the Nexus Q at its developers conference.
The $300 (£192) gadget was designed to be plugged into a stereo and television to play media files.
Tech websites had criticised its price and the fact it relied on a connection to at least one other Android-based devices to be of use.
The "made-in-US" gadget had only been offered to customers in that country.
Customers who had ordered a copy have been told they would receive one free of charge, while Google's order page now states that the machine "is coming soon".
"The industrial design and hardware were met with great enthusiasm," the firm said in an email to its customers.
"We also heard initial feedback from users that they want Nexus Q to do even more than it does today. In response, we have decided to postpone the consumer launch of Nexus Q while we work on making it even better."
Android dependent
Google designed the device to act as a jukebox, allowing different Android users to stream material to it in turn.
It uses near-field communication (NFC) technology to identify a new handset or tablet with just a tap and can then receive data via wi-fi.
Google's engineers also suggested it was designed to be "hackable" via a USB port, allowing new functions to be added by its users.
Reviews praised its look and built-in amplifier.
However, they noted it was significantly more expensive than alternative products from Apple, Roku, Sonos and others.
Unlike its rivals products it also relied on another Android device to act as a remote control in order to access files via Google's Play Music, Play Video and YouTube apps.
This was despite the fact the actual data was being streamed via the internet from Google's servers rather than directly from the Android devices themselves.
Weak reviews
"It's simply just a set of good intentions that don't come together in the end," said tech site The Verge in its review.
Engadget added: "It feels like a mysterious piece of alien technology that's beamed straight down to your bookshelf. It also feels like alien technology in that we have no idea what to do with the thing".
Androinica, a site dedicated to Google's mobile system, described it as "another cool Google product that's destined to fail".
Less than a month after those reviews were published Google announced its U-turn. But some tech writers believe it could still have a future.
"The price was one of the barriers so that may be lowered, and Google may open up the services it works with so that it's not restricted to the firm's own products," said Chris Hall from Pocket-lint.
"It may also decide not to restrict the Nexus Q to being controlled by devices running its own operating system - releasing apps for rivals' handsets and tablets would be a very smart thing to do as well."