Google tackles rogue Android app problem with new rules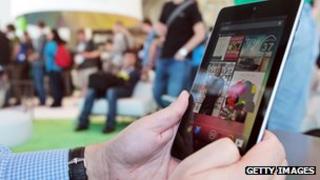 Google is attempting to crack down on rogue mobile apps on its Android platform with stricter guidelines for developers.
The measures include a ban on using icons that are "confusingly similar" to that of existing products.
The search giant also issued rules on how advertising should appear in apps.
Since its launch, the Google Play store has featured a significant number of malicious apps, or counterfeit versions of popular games such as Angry Birds.
The new guidelines were announced in an email to developers who have 30 days to make sure their apps comply.
Developers who do not comply with the measures could see their products removed from the store.
The letter, published in full by the Android Central blog, said Google was "constantly striving" to make improvements.
"This requires us to update our policies when we launch new features, like subscription billing, and also when we see unhealthy behaviour, like deceptive app names and spammy notifications."
Dead Trigger
Unlike Apple's App Store, Google's staff do not vet submissions to its catalogue, instead using an automated anti-malware system called Bouncer to identify known malware and then letting users flag up bad apps if they make it online.
Past examples of apps engaging in "unhealthy" behaviour include programs capable of sending sensitive user data to a remote server.
As well as dangerous apps, knock-off versions of popular paid products - often games - have frustrated developers.
Mobile developer Madfinger Games said piracy issues in the Android store had forced it to make its title, Dead Trigger, free to download.
"At first we intend to make this game available for as many people as possible - that's why it was for as little as buck," the company wrote.
"Even for one buck, the piracy rate is soooo giant, that we finally decided to provide Dead Trigger for free."
In an attempt to combat this, Google has said it was "restricting the use of names or icons confusingly similar to existing system apps in order to reduce user confusion".
It added: "We are providing more detail on the kinds of dangerous products that are not allowed on Google Play.
"For example, apps that disclose personal information without authorization are not allowed."
'Good first step'
Google said the new guidelines also gave clearer rules on what constituted a violation of its spam policy.
A further problem highlighted by users is the proliferation of intrusive and frustrating advertisements within free apps.
Google said that it would add a new section to address advertising behaviour within apps.
"First, we make it clear that ads in your app must follow the same rules as the app itself.
"Also, it is important to us that ads don't negatively affect the experience by deceiving consumers or using disruptive behaviour such as obstructing access to apps and interfering with other ads."
The guidelines have been welcomed by many Android developers.
"I think it's one of many steps, but it's a good first step to see them taking this sort of thing seriously," said Matthew Kennard, a mobile developer for UK-based One Result.
"Now they've released the Google Nexus phone, and the Nexus tablet, Google are thinking now's the time to get serious."