Crysis 3 maker, Crytek, opens China video games studio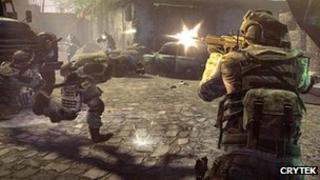 The makers of the Crysis video games series have announced they are opening a new studio in China.
German developer Crytek said its Shanghai base would work on local uses of CryEngine - the software that powers games' graphics and provides artificial intelligence to their characters.
It said its team would develop new technical features relevant to Asian gamers and aid local-language support.
China has a huge video games markets which is still growing rapidly.
Crytek's news is the latest in a series of China-focused gaming developments.
The firm teamed up with local publisher Tencent - China's biggest internet company - at the end of 2010.
They offer the online free-to-play title Warface, a CryEngine-based first person shooter.
Tencent also has links to several other western gaming giants.
Activision is working with the company on an upcoming China-specific release of its flagship war game: Call of Duty Online.
Social gaming firm Zynga - which bought a Beijing studio in 2010 - has linked up with Tencent to launch a beta version of Zynga City, a local adaption of its Cityville title.
And the Chinese firm also bought a minority stake in Epic Games in June - the maker of the Unreal gaming engine used by titles including Mass Effect 3 and Lollipop Chainsaw. It competes with Crytek's technology.
PC gamers
Despite the fact that many video games consoles are built in mainland China, they have been officially banned for sale there since the year 2000.
As a result developers have focused on selling titles for PCs or mobile devices.
The market is huge: analysts at Niko Partners recently told Forbes that the country was home to 150 million gamers who collectively generated half of the world's PC online games revenue.
It estimated the market would be worth $6.1bn this year saying Tencent was the leader when it came to advanced casual titles.
Others are also closely monitoring developments.
"There are other big gaming companies doing business in the territory including Shanda and Netease," said Piers Harding-Rolls from IHS Screen Digest.
"But the advantage of working with Tencent is that it has the biggest amount of users. That's thanks to products such as its QQ instant messaging service with over 700 million users, which gives it huge marketing clout.
"From Tencent's point of view it wants to build relationships that will help its products stand out, and that's why it's seeking partnerships with the companies offering the highest quality content in this space."
Beyond games
Crytek signalled that it also had ambitions beyond its gaming base.
It said its CryEngine technology was already being used in China to develop interactive exhibitions and to visualise architectural designs.
"We see a lot of potential in the Chinese market, and have learned a lot from the close relationship with our eight existing Chinese licensees," said the firm's managing director Avni Yerli.
"The formation of Crytek Shanghai builds on the base we first established in Asia with Crytek Seoul, and offers invaluable strategic opportunities to expand our reach into the world's largest market."
The firm is also continuing to work on titles for its western audiences.
It will show off Crysis 3 and an English-language version of Warface at the Gamescom in Cologne, Germany in August.