Russian tech giants aim to replicate success abroad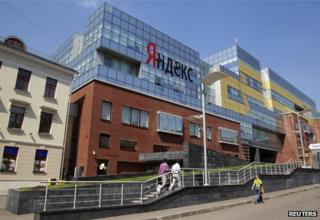 The gleaming, glass-fronted building towers over its more traditional neighbours in this quiet street in central Moscow.
But it is not just Yandex's headquarters that stand out.
Although the website is little known outside Russia, within the country's borders it is a giant. It has become the nation's most popular search engine, leaving Google trailing with just a quarter of the local market.
It is a similar picture for social networks. Three Russian services - VKontakte, Odnoklassniki and Moi Mir are favourites, presenting Facebook with an uphill struggle.
And when Russians shop online, they opt for home-grown e-commerce site Ozon. Amazon has virtually no presence in the country and eBay recently hired an ex-Ozon manager to improve its standing.
But hits at home have not sated the firms' thirst for success, and they aim to follow anti-virus maker Kaspersky Lab in achieving wider recognition.
Better product?
How have they made such an impression on home markets? Unlike in China, there is no firewall to steer users towards domestic products rather than deeper-pocketed international alternatives.
Yandex suggests there are three simple reasons for its popularity: it is a Russian-made service, it got there first, and it has a superior product.
"When Western search engines appeared, most of them couldn't search in Russian," explains chief technical officer Ilya Segalovich.
In the case of St Petersburg-based VKontakte, other factors may be at play.
The social network has 40 million users in Russia compared with Facebook's 14 million, according to digital media analytics company Comscore.
This may have something to do with its free peer-to-peer file-sharing service, which has proven wildly popular with members wanting to swap MP3 files, but has prompted piracy complaints from the music industry.
In May, Russia's appeal court ruled the site was liable for copyright infringement after a challenge by a subsidiary of EMI, and fined it 210,000 roubles ($6,650; £4,250).
Education system
Dmitry Grishin, the chief executive of Mail.ru - the country's biggest web portal and owner of rival social network Moi Mir - agrees Russia's complex language has been an advantage, acting as a barrier to early attempts by Western companies to penetrate the market.
He also believes the Russian education system - traditionally strong in engineering and maths - produced a lot of well-trained IT professionals, ready to jump-start the local internet industry.
"Thousands of Russian programmers work in the Silicon Valley - many are founders of the world's biggest and most successful companies such as Google and Badoo," says Mr Grishin.
"A significant number work in Russia, creating internet resources, software and services that compete successfully with foreign ones."
Beyond borders
But to conquer the West, Russians will need more than a great product, says John Lyons, chief executive of the International Cyber Security Protection Alliance.
He says they will need to overcome prejudices that date back to the days of the Cold War.
"If a company were involved in the storage of personal information that would end up on servers in Russia, that company would have quite a job explaining to the Western public that their information would be kept safe," says Mr Lyons.
"So the more open and transparent that a company can be about its products, its expertise, the way it does business, its target market and its technologies, the more acceptable people will find it."
Kaspersky Lab has proven it is possible. The firm has managed to become one of the world's best-selling anti-virus software developers.
Reports of links to the Kremlin remain an issue - as a recent Wired profile and the company's subsequent complaints demonstrate - but the business's founder and chief executive believes much of its success is down to branding.
"In 1999, our firm set itself the goal of breaking into global markets, and started promoting the brand, taking into account local cultural specifics of different regions," Eugene Kaspersky says.
Of course, such efforts do not come cheap. Having Indian cricketer Sachin Tendulkar and Taiwanese singer/actor Jay Chou as brand ambassadors and sponsoring Australia's Manly Sea Eagles rugby league team and Scuderia Ferrari Formula 1 means bills that others might prefer to avoid.
But there are several Russian firms determined to follow its success in overseas markets.
Travel booking firm AnywayAnyday, video game publisher Game Insight, paper-to-digital file conversion application creator Abbyy and made-to-order software developer Epam are all names to watch.
All four operate English-language websites, and in some instances, have opened offices overseas.
Yandex's Mr Segalovich certainly thinks there is nothing preventing another Russian company becoming a global player.
"We have to stay human, don't spoil the karma and make good products," he says, "because technology doesn't have nationalities."
The author's brother has recently started working at Yandex, but he was not involved in this article.