Microsoft names Windows RT computer makers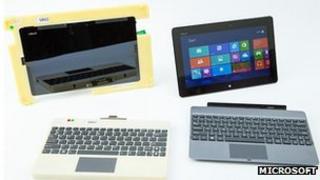 Microsoft has revealed five manufacturers will offer Windows RT PCs after the operating system launches.
It said Samsung, Dell and Lenovo would sell PCs powered by the software, adding to previous announcements about Asus and Microsoft itself.
Windows RT is designed to work on chips based on British firm ARM's designs.
It is the first version of Microsoft's flagship system made for consumer devices not powered by the x86 chip architectures used by Intel and AMD.
Windows RT devices will become available on 26 October alongside the release of other Windows 8 products.
But unlike the other versions of the system it will not be offered as a stand-alone purchase, and can only be obtained by buying one of the computers it is installed upon.
Publicising partnerships
Microsoft's announcement in June that it would offer its own Windows RT tablet - Surface - had led to speculation that the firm's relationship with other manufacturers could become strained.
The company acknowledged the risk in a filing with US regulators saying: "Our Surface devices will compete with products made by our OEM [original equipment manufacturer] partners, which may affect their commitment to our platform."
But in a blog post announcing the names of the device makers Microsoft was keen to stress the importance of its partnerships.
"Our engineering collaboration on these Windows RT PCs has been strong, collaborating with the PC manufacturers, silicon partners, and operators to focus on hardware, software and services integration," wrote Windows chief Steven Sinofsky.
"Product designs were informed and revised by our collective efforts through development and testing."
Acer has said it intended to release Windows RT devices next year.
But Toshiba said it wanted to "monitor market conditions" before making a decision, while Hewlett Packard said it wanted to focus on x86-based alternatives for the time being.
Gaming controversy
Windows RT devices will offer full access to the system's touchscreen interface - previously known as Metro - but will not run third-party apps when switched to desktop mode.
They are likely to be marketed as offering extended battery life and the ability to turn on in less than a second from standby mode.
Microsoft has also signalled that its own Windows RT tablets would be cheaper and thinner than its Intel-based ones.
However, the company's decision to limit Windows RT devices to installing software from its store - which is not the case for other Windows 8 computers - has attracted criticism.
The move replicates a similar restriction imposed by Apple on its ARM-based iPads, but has still been attacked by video games developers who are unhappy that Microsoft will take a 30% cut of sales.
Gabe Newell, chief executive of Valve, which makes the Half Life and Portal series, branded it a "catastrophe".
An executive from Blizzard, the firm behind World of Warcraft, said the move was "not awesome", while indie developer Stardock's founder has said Microsoft was pursuing a "wrongheaded approach".