Ride-on giant robot 'Stompy' hits funding target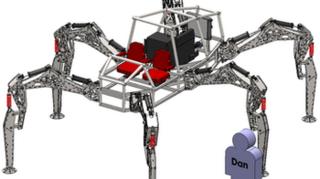 Stompy, a giant six-legged robot, suitable for both fun rides and use in disaster zones, looks set to be built after it successfully hit its target on crowdfunding site Kickstarter.
The robot is the brainchild of a group of hackers and hobbyists based in Somerville, Massachusetts.
They have raised $65,000 (£41,000) with 18 days left for fund-raising.
If $300,000 is raised, the team say they will build a "zoo's worth of rideable robots".
Based at the Artisan Asylum in Somerville, Project Hexapod is led by James Whong, Dan Cody, and Gui Cavalcanti.
Along with a team of 15 students - from engineers, programmers and electronic experts - they have spent the past four months designing, prototyping, simulating, and debugging Stompy.
Vital statistics of the six-legged robot with room for two drivers will include a weight of 4,000lb (1,815kg), a width of 18ft (5.5m) and engine size of 135 horsepower. They say it will be able to walk at 2-3mph, carry 1,00lb, travel over broken ground like rubble and rock piles, and cross water up to 8ft (2.4m) deep.
It also has a more fun side.
"First of all, we're building a giant walking robot that you can ride, and if all goes according to plan, we'll be showing it off at a festival or fair near you. Depending on your level of support, you may even get to ride it or drive it," promises Stompy's funding page on the Kickstarter website.
Once the robot is complete, the team plans to release its plans and lists of materials and parts.
"The construction and control techniques we're using will drop the cost of controlled hydraulics by an order of magnitude or two from where they are now, and will make giant robots affordable to small groups of enthusiasts everywhere," the team said.
The past 20 years have seen an explosion in the arena of hobbyist robotics, made possible by cheap, easy-to-use microcontrollers. Sites such as Kickstarter provide a good forum for gathering finance for the more ambitious projects.