Activision's Call of Duty series targets Gamescom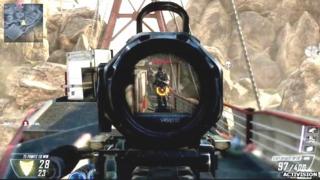 Video games maker Activision Publishing arrives at the industry's biggest European event - Gamescom in Cologne, Germany - from a position of strength.
Its first and third-person shooter franchise, Call of Duty, continues to blast its way to success: The Modern Warfare 3 sequel has been one of the top-selling games since its November launch and its online service, CoD: Elite has attracted more than 12 million registered users.
The firm is showing off the series' next title, Black Ops 2, and a version for the Sony Vita handheld console at the event. It is also about to launch a free-to-play edition in China which will charge users for weapons and other upgrades.
Its Skylanders games targeted at younger children have also proven to be a hit. The firm has sold tens of millions of add-on toys which offer new content when they are placed into a RFID (radio-frequency identification) reader attached to a console.
They have proved so popular that the firm recently boasted that the characters had overtaken Star Wars to become the best-selling action figures in the US and Europe.
Despite all this, doubts remain. The firm remains a relatively small player when it comes to smartphone games; Vivendi has been exploring a sale of its stake in parent company Activision Blizzard, which could prove a distraction; and some critics claim the company is over-reliant on sequels.
Ahead of Gamescom, Activision Publishing's chief executive Eric Hirshberg, spoke to the BBC:
Your big focus at this event is the new Call of Duty titles. Some analysts have questioned if there will still be the same appetite for the new games. Is that a worry?
Of course it's something we think about constantly but so far the proof has been in the pudding.
There's been continued appetite every year and it's up to us to continually innovate and give people lots of reasons to keep coming back to the franchise.
I certainly think we've answered that call in grand fashion with Call of Duty: Black Ops 2. The game is very innovative, it has several firsts for the CoD franchise including the fact that it takes place in a future setting which unlocks a whole host of creative possibilities for our developers from new weapons to new settings to new art directional ideas.
The other thing I'd say is that while I hear those questions every year, and I understand the reason for them, I also think that there is a pattern in the gaming industry overall from gamers: that people are voluntarily spending more and more time with fewer franchises going deeper into the worlds that they love.
That doesn't show a decreased appetite for interactive entertainment, it shows an increased appetite - just through the lens of fewer brands.
So I think our strategy plays well with what games are doing naturally themselves.
The free-to-play business model is a hot topic right now, and your firm is pursuing the strategy in China with CoD. Which of your other titles would you be willing to experiment with?
In my career most times I've seen executives predict the future they've been wrong.
I think the future unfolds in ways that are hard to predict, and it's our job to respond as they do.
I certainly think free-to-play is a big disruption and it's a big new idea in the marketplace that is meaningful and we need to watch carefully. I also think there's a tendency to overstate a kind of the sky is falling mentality: that anything new axiomatically destroys everything that came before it.
In my experience that hasn't been the case. Usually new things create new demand and new markets for themselves and don't necessarily destroy everything in their wake.
So why adopt the strategy in China?
The reasoning behind that is very simple. The free-to-play model is the widely adopted model of choice for the Chinese gaming community.
It's not a console community, it's an online [PC] gaming community, and that's the model that works there.
Activision hasn't been a big player when it comes to the smartphone market - though last week's opening of your new mobile games studio in Leeds points to change. Why have you been slower than competitors such as Electronic Arts?
Actually Activision already has a good track record of making mobile games all the way back to Crash Bandicoot, Guitar Hero and Call of Duty: Zombies. These were some of the top-rated and top-selling games when they came out.
That said, I certainly think it's fair to say we recently upped our investment and our focus on it. The reason for that is not necessarily being slow to move, but being prudent, measured and methodical in our decision making.
What we're seeing is obviously an explosive install base - you've got hundreds of millions of smartphones in people's pockets and tablets being sold, and a very robust demand for high quality interactive entertainment content.
And that's something we think we can do as well as anyone out there and it's something we want to compete in.
So, do you think this will become more of your focus than the Sony Playstation Vita and Nintendo 3DS handhelds?
I certainly think that smartphones and tablets have an install base and an adoption rate that is unignorable in culture.
So, obviously if games are going to be one of the primary things that people consume on those devices then we want to be there.
The question you had about Nintendo handhelds and Sony handhelds: I know it's easy to conflate them because they are both pocket sized devices, but they are very different. One is for a core game experience - a very immersive experience on the go - the other is for a more simplistic and bite-sized gaming experience on the go.
Whether or not those more immersive mobile gaming platforms find the kind of audience that they have in the past - certainly mobile phones are a huge disruptive force in that industry.
But we still think we can deliver a great CoD experience for the Vita. And we delivered a great Skylanders experience on the 3DS and did very well out of it.
I think a lot of the time you take it on a case by case basis.
One of the other trends catching attention has been the number of developers who have raised cash and built customer excitement through crowd funding platforms like Kickstarter. Are there lessons from that which Activision can take on board?
First of all I think it's awesome. I think it's really a great development in culture to have people taking these commercial decisions on the content that they are attracted to into their own hands.
At the same time just as there has always been a marketplace where there is independent films and music, there has been a peaceful co-existence between independent development of content and more like how we approach it.
It is certainly something that we look at. What I think is most compelling about it is the degree of engagement that people are willing to have with the content that they love, and that is something that we are capitalising on - in very different ways, obviously.
But that was [included in] a lot of the discussions that led to the development of Call of Duty: Elite.
There's millions of people playing multiplayer every single day: what if we gave them the tools to connect to each other? What if we gave them tools for user-generated content so they can upload their own videos? Do you think they would do that?
And I think that the good news is that if you give people relevant content they tend to be open to deep and meaningful engagement.
That is a macro-trend that I really like in our industry and culture overall.
Further down the line you have Halo creator Bungie's much anticipated new game. How is it progressing?
We're dying to talk about it, but all I can tell you is that we're really excited about how the development is going.
We think it's going to be very differentiating and new, and a whole new gaming universe.
You have had success with the Skylanders toys. But other efforts to integrate new types of hardware with games - such as motion sensors -have sometimes been dismissed as gimmicky. What lessons have you learned?
It has to be responsive to the game you make, otherwise it is just novelty and [a] gimmick.
I'm not surprised that the games that have done best with the motion phenomena have been dancing games where movement is really integral to the gameplay experience.
I don't think that necessarily the case with a game like Call of Duty, and yet do think giving people a new way to physically interact with the console on Skylanders was incredibly relevant and indispensable to that experience.
I really think it starts with the game you are trying to make - the creative idea - and then you say is there a new input mechanism or mechanic that would make this idea better.
Are all the reports and rumours of a sale of Activision Blizzard proving a distraction?
I can't speak on Vivendi's behalf and can't engage in any hypotheticals.
But I will say is it's a great time at the company because we're focusing on some pretty exciting IP [intellectual property] and experiencing some pretty remarkable successes and we're just going to stay focused on the things we can control which are creating and executing the best interactive entertainment out there.
I know that sounds like a packaged answer but it's the truth.
Finally, we're heading towards the key Christmas selling season. Apart from Activision's titles which are you, as a gamer, most looking forward to?
Gosh... I can't not answer CoD: Black Ops 2 and Skylanders Giants because they are so near to my heart.
But I'm really curious to see [Microsoft's] new Halo game - what I've seen looks really good - I have a lot of love for that franchise.
And [Naughty Dog's] The Last of Us also looks really fun - I know that everyone focused on the level of violence in that at E3, but there were some really nice acting and narrative structure that I admired.