Megaupload case: New Zealand court wants FBI evidence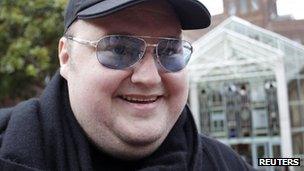 US authorities must show evidence of internet piracy before Megaupload boss Kim Dotcom is extradited, a New Zealand court has ruled.
Justice Helen Winklemann said that the defence team needed access to the evidence ahead of the extradition hearing, due in March.
Mr Dotcom denies FBI claims he copied and distributed music, films and other content on a huge scale.
Following his arrest in January the case has been beset by delays.
In June a judge ruled that the warrant for the initial raid on his mansion and the way evidence was seized were illegal.
Mr Dotcom has been accused of copyright theft, money laundering and racketeering fraud and faces a jail sentence of up to 20 years if convicted in the US.
Prosecutors allege that pirated movies and other content shared through his site cost copyright holders more than $500m (£322m) in lost earnings, making it one of the biggest cases of its kind.
The US Department of Justice alleges the firm made about $175m from advertising and membership fees as a result of its activities.
Mr Dotcom's lawyers deny the charges saying the site simply offered an online storage service and that the majority of its traffic was "legitimate".
Mr Dotcom remains on bail.