BT hit by OnLive cloud video games firm's shake-up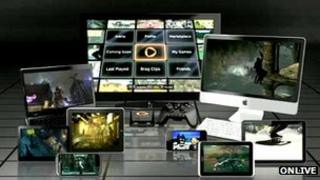 BT has said it is "highly likely" it will have to write off its stake in a cloud-based video games service.
OnLive - which allows users to play titles over the internet without the need for a console - transferred its assets to a new company on Friday in an unusual business transaction.
Smartphone maker HTC has said it will also recognise a loss on its investment in the company as a result.
In addition OnLive's workers lost their jobs and a right to stock in the firm.
The new business has said it has offered "almost half" the staff a post and will offer others the chance to do consultancy work.
Customers have been told their service will not be interrupted. But analysts say the news may discourage others from investing in the sector.
Bankruptcy alternative
OnLive's new backer is the Silicon Valley-based venture capital group Lauder Partners.
It bought the original company's technology, trademarks and patents after OnLive's board used a technique known as "assignment for the benefit of creditors" - an alternative to bankruptcy.
Lauder has not revealed how much it paid - but any cash from the sale is supposed to be used to pay off the original firm's debts before the remainder can be shared out among its investors.
The statements from BT and HTC signal there might not be any cash left to divide.
The British telecoms group said it had owned a 2.6% stake in the business. It declined to say how much this had been worth, beyond stating it did "not represent a significant investment for BT as a whole".
HTC said it planned to recognise a $40m (£25m) loss. The firm paid that amount for a 3.8% stake in OnLive in 2011.
The US telecoms operator AT&T and the media group Time Warner also owned shares in the business.
Internet gaming
OnLive is a pioneer of "on demand" cloud gaming services.
The business was founded by Steve Perlman, a software engineer who had previously worked on Apple's Quicktime media player and created WebTV - one of the first products to link televisions to the internet, which he sold to Microsoft.
OnLive sought to shake up the video games industry by offering subscribers the ability to play premium games console titles over the internet.
Remote servers run the games software and stream the video footage to the user, who plays the game with the firm's gamespad, using a computer, smartphone or television - in the latter's case with the aid of a special adapter.
The product's graphics and games controller-response times are not as good as those on a console, but OnLive offers convenience - and many industry insiders believe the technology will be widely adopted in the future.
Earlier this year there had been reports that Sony might take over the business, but the Japanese company instead bought Gaikai - a rival service.
Games news site Joystiq reported Mr Perlman had told his staff that part of the reason OnLive had failed to make a profit as an independent business was because it had signed contracts for 8,000 computer servers - but only had about 1,600 people using its service at any one time.
However, the firm said it had 1.5 million "active users" in a later press release. The product is available in the US, UK and Belgium.
Cloud gaming's future
UK games industry body Tiga suggested on-demand gaming had a future whatever OnLive's problems.
"There is no doubt that cloud gaming is innovative and exciting, with the potential to open up gaming to more players by streaming games direct to televisions, set-top boxes and consoles," said the organisation's chairman, Jason Kingsley.
"Such infrastructures are undoubtedly expensive to set up and users still have to be convinced but this is likely to come, especially in the light of Sony's purchase of Gaikai."
But one industry watcher said the weekend's events were likely to have wider ramifications.
"There's no way another cloud gaming company will be able to raise the kind of funds OnLive did any more - at one point people were talking about the firm being worth about $1.8bn," said Ed Barton, director of digital media at Strategy Analytics.
"Cloud gaming's technology is proven and the user experience will get better - so I think it has a place as a distribution service for games and other media going forward.
"But Lauder may now prefer to focus on licensing OnLive's intellectual property to others rather than just offering a consumer focused service, bearing in mind the size of its user base."
A statement from OnLive said: "All previously announced products and services, including those in the works, will continue and there is no expected interruption of any OnLive services."