Samsung upgrades Texas mobile device chip factory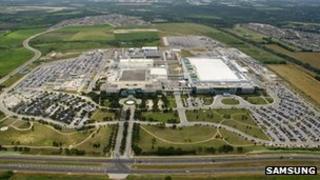 Samsung is to spend $4bn (£2.5bn) upgrading a US factory which makes processors for smartphones and tablets.
The site in Austin, Texas is the firm's only semiconductor plant outside its home country, South Korea.
It makes chips for Apple's iPhones and iPads as well as Samsung devices.
The investment will allow the base to make the latest system-on-chip designs in which various technologies are integrated onto the same circuit, helping minimise manufacturing costs.
These include a CPU (central processing unit), GPU (graphics processing unit), memory and other elements.
The Exynos 4 chip found in Samsung's flagship Galaxy S3 handset and Apple's A5X used in the iPad 3 both use transistors using a 32 nanometre fabrication process.
But the factory will be able to make wafers using a superior 28nm process. This means the transistors - or tiny on-off switches that power its processors - can be shrunk in size.
This allows more to be fitted into a chip, with the promise of increased processing power and better energy efficiency.
The firm aims to be able to mass produce the technology by the second half of 2013.
Raw materials
Samsung says the move will take its total investment in the factory to $13bn since 1996, making it the biggest ever foreign investment into Texas.
"We are extremely pleased to extend our presence in Austin and reinforce Samsung's capacity for highly advanced logic products," said Samsung Austin Semiconductor's president Woosung Han.
"The added ability in production will allow our customers to better respond to market needs."
Although it may seem odd that a South Korean company would make chips in the US destined to be sent to Asian assembly plants, one analyst said the move made strategic sense.
"Silicon and the various precious metals involved in making these chips are found in abundance in the desert and arid climates in the US in Nevada, Texas and Arizona," said Chris Green, principal technology analyst at Davies Murphy Group.
"The immediacy of these raw materials helps Samsung offset the higher labour and transport costs involved.
"It's also about diversification. The 2011 Japanese tsunami and earthquake severely impacted the car industry - and that's been a big lesson for the tech industry. By spreading its manufacturing base to several geographies Samsung is better protected against natural disasters, currency fluctuations and other events that could leave it exposed."
The firm announced in April that it also intended to build a mobile device chip plant in China.
Skills base
Austin is home to a tech hub nicknamed Silicon Hills - one of the US's biggest research and development centres outside of Silicon Valley. This has helped provide a skilled workforce.
"The local talent is a huge reason for the plant being in Austin," said Sergis Mushell, head of microprocessor research at the tech analysis firm Gartner.
"Samsung has hired processor architects who have worked for other chip companies in the area such AMD and Texas Instruments.
"Like others Samsung is licensing chip designs from the UK's ARM Holdings and then introducing additional features. You need the skills of a surgeon to be able to play around with the guts and the micro-architecture of these processors - and being in Austin gives Samsung access to the guys who can do that."