Online on holiday - expensive and risky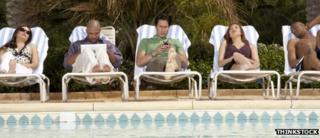 Getting an internet connection while on holiday in France can be an expensive and dangerous business. So far, it's cost me about £65 and left me with bruised ribs. Let me explain.
I set off for a quiet fortnight in a cottage deep in the Brittany countryside with just one little nagging concern. Of course, going offline for a couple of weeks, far from Twitter, online news sites and the constant flow of emails, would be very healthy. But I knew I was going to have to pick up at least one important work email, and a 14-year-old boy was telling me that a fortnight without the internet was a serious breach of his human rights.
So before leaving home I investigated the possibility of taking just a smidgen of internet connectivity. The cost of data roaming is coming down from the ridiculous £3 a MB of a year ago, but it is still an expensive business. The best idea seemed to be to take my tablet computer with its rolling 3G contract with a major UK telecoms operator and use that as a mobile hotspot for the whole family.
But guess what - the major telecoms operator won't let you use your 3G tablet abroad at all, at any price. Even though it is owned by a bigger European telecoms operator. When I suggested to the company that overseas use of a 3G tablet might be a boon to customers, a light appeared to go on: "Hi Rory, after we passed your feedback around data roaming back, we wanted to let you know that this is in the pipeline."
Great, but too late.
So I followed advice received from a number of people and took an Android smartphone, planning to use it as a wi-fi hotspot with a local Sim card. Emerging from the Channel Tunnel, I popped into a newsagent in Calais and bought a Sim for a major French telecoms operator for 10 euros.
On arriving in Brittany that evening, I opened the packet and found a mass of complex documents, the gist of which was that I had to fill in a form and send off a copy of my passport to activate the Sim. Nonsense, I thought - I just ring a number and it's activated.
The next day the phone appeared to be working, but the credit was already exhausted without any internet use, so I bought 20 euros top-up from a supermarket. The cashier explained that I just needed to call the top-up number and choose the 3G option.
When I did that, a recorded message told me there was a "faute technique" and when I went into one of the network's shops, I was met with a Gallic shrug and told this was a nationwide problem and to come back the next day.
When I returned, the same man explained it was not a network problem but that my phone had never been activated. After more sighing and shrugging, the service was eventually working, but at a cost of 0.5 euros a MB - only a little cheaper than roaming with a UK Sim. Within 48 hours, all my credit was gone.
By this time, I'd used my smidgen of connectivity to describe the network on Twitter as one of the world's worst telecoms companies - and very swiftly a nice customer service man called Tanguy contacted me to offer help. He explained what I really needed was their special "slate" micro-Sim that offered plenty of data for a tablet for 20 euros.
Off I went to find another of the company's franchised shops, where the woman behind the counter laughed at the idea of selling me a micro-Sim. "There's no demand for that kind of thing in this town," she sneered, and I found myself buying another 20 euros top-up. Only to find the internet was now completely inaccessible from this Sim.
My customer service friend Tanguy was so distressed by this tale that he offered me a complete refund of the 50 euros I'd spent so far, if I went back to the shop and purchased a different kind of Sim more suited to internet use. But by then it was too late - across the road I'd found a rival operator that did see a demand for tablet micro-Sims and was prepared to sell me one for 28 euros, complete with 2GB of data.
Which is where the bruised ribs come in. When I got back to the cottage with the new micro-Sim, I found the signal was pretty weak. Wandering a few hundred yards down the country lane at 10pm, the 3G signal came through, delivering my vital emails. But returning in the dark, clutching my tablet, I forgot about the nettle-filled ditch in front of our cottage and plunged in, emerging bruised and cursing.
Still, for a total outlay of 78 euros, I've got about as much connectivity as I need - although not enough for my son. We asked why he really needed the internet, and he told us it was vital that he kept up with a series of YouTube videos documenting the playing of an online game. Seeing our puzzled faces, he said: "Trying to explain this stuff to adults is like trying to explain the theory of relativity to a cageful of monkeys."
I see his point. That's much the way I feel when I try to explain to European telecoms companies my theory about offering connectivity to their customers across the continent at an affordable price.