Google identifies commentators in Oracle case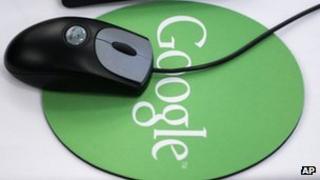 Google has named the people it had a financial connection with who blogged or commented on its legal case against tech giant Oracle.
The firm repeated that nobody had been paid specifically to mention the case.
The dispute was over Oracle's claim that Google had infringed its technologies in the Android system.
A US jury ruled that Oracle's copyright had not been infringed. The judge asked both parties to reveal links to people who had discussed the case.
He said was was concerned that payments by the companies might have influenced media coverage.
Identified 'influencers'
Google named about a dozen people and organisations in a filing submitted on Friday, which was subsequently published online by the Groklaw news site.
They include a member of its staff who it said had tweeted about the case of his own accord; a law professor who had provided advice in an unrelated lawsuit but had commented about the Oracle dispute when contacted by the press; and a former Google intern who now works as a journalist for the Ars Technica news site and had covered the story.
Named organisations to which Google had given money that had commented on the affair include the open-internet campaign group Public Knowledge; "free markets" lobby group Competitive Enterprise Institute; and privacy rights activist Electronic Frontier Foundation.
Google also noted that it had a relationship with Mike Masnik, from the blog Techdirt, because he had worked for the Computer and Communications Industry Association to which it had made contributions.
Mr Masnik took objection to his name being linked to the search giant in a article he titled "apparently I'm a Google shill and I didn't even know it".
He said that the work he had done for the CCIA was unrelated to the case and that the judge's disclosure order had been so broad that it was "silly".
"I'm not sure how that has anything to do with Google," he wrote on Techdirt.
"Google is a CCIA member, as are a bunch of other companies. The editorial content of this site has never been for sale, nor will it ever be. Because the only way I survive in this business is with my reputation."
Oracle had previously named patent blogger Florian Mueller and Stanford University Professor Paul Goldstein as commentators with whom it had a financial relationship.