Log-in delays hit Guild Wars 2 launch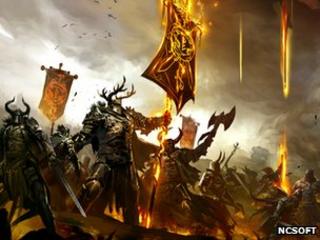 Log-in problems have hit online video game Guild Wars 2 as the title officially launches.
The eagerly awaited massively multi-player game went on sale on Tuesday after five years of development.
The sheer number of people logging in meant many faced delays or could not meet up with their friends when trying the new title.
The launch comes at a difficult time for online game makers, many of whom are struggling to keep players paying.
It is set in the same fantasy world of Tyria as the original but takes place 250 years after the first Guild Wars.
Cash crunch
Although 28 August is the official launch date, those who pre-ordered the title got early access from 25 August.
Keen gamers who tried to log in to play on the first morning of the early access period had to endure a long wait to get started or had to play in a "staging" area that left them unable to play with friends.
More delays are expected as the official launch brings many more players into the game.
Guild Wars 2 gives players the job of reuniting the members of a heroes guild, called Destiny's Edge, who are needed to save Tyria from the ravages of five elder dragons who have woken and brought chaos to the world and its inhabitants.
ArenaNet claims to have made significant changes to the usual mechanics of massively multi-player online games (MMOs) to remove the drudgery from the work required to get Destiny's Edge to re-form and from the other quests and tasks players are set.
Alec Meer, from PC games news site Rock Paper Shotgun, said Guild Wars 2 presented many of the mainstays of MMOs in a "fresh and nuanced way" that could see it hold the interest of players.
"The complicated, highly tactical and flexible combat should give it a life beyond the routine loot-hunting that characterises its contemporaries," he told the BBC. "This is a game to be mastered rather than merely have endless time sunk into it."
Guild Wars 2 has been launched during a time of transition for many MMOs, which have been losing regular players. Many developers have ended their reliance on regular monthly subscriptions in favour of the "freemium" model that offers a game free but charges for extras.
Wesley Yin-Poole, news editor at Eurogamer, said Guild Wars' history would mean it could avoid having to drop its upfront fees.
He said it occupied a "unique" place in the MMO landscape because players must pay before they download and go adventuring. In the UK, Guild Wars 2 costs £49.99. After that, he said, micro-transactions for gear and other extras help pay for ongoing development.
"That method worked well for the first Guild Wars game, and it looks set to work well for Guild Wars 2," he said. "It gets away with it because it has huge hardcore appeal and a loyal fanbase already established by the first game."
Guild Wars 2 may have bucked the trend seen with other MMOs, he said, but there was no doubt that the traditional monthly payment model for online games was "dead".
Millions might still pay for World of Warcraft but that has a free-to-play option, he said, and others, such as Star Wars: The Old Republic, are about to go the same way.
"I doubt we'll ever see a monthly subscription MMO again," he said.