Mastercard's digital-wallet deal with Everything Everywhere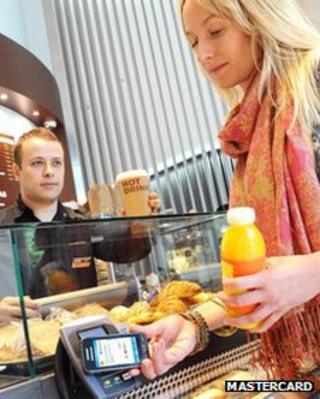 Mastercard has secured a deal with the UK's biggest mobile telecoms operator to promote its digital wallet services.
The US-based payments company will co-develop services with Everything Everywhere (EE), which runs Orange and T-Mobile branded services.
Mastercard said the move would support the "accelerated adoption" of payments made with mobile devices thanks to EE's 27-million-strong customer base.
O2, Barclays, Visa and Paypal are among those developing rival services.
Mastercard said one of the first products would be a service in which users pre-pay money into an account before being able to spend it via handsets equipped with near-field communication (NFC) technology.
It added that more than 100,000 retailers in the country would be able to accept the contactless payments.
Over the course of a five-year partnership, the two firms said they planned to add other features, including in-store payments made via mobiles that would take funds straight from users' bank accounts, and person-to-person money transfers.
Mastercard said it also intended to take steps to help small-business owners accept payments. Many have been discouraged from fitting NFC equipment because of the costs involved.
The news builds on an existing relationship between the two companies. Mastercard provides the technology behind Orange's existing Quick Tap platform, which allows Barclaycard customers to make payments by tapping their card on an NFC-reader.
Wallet wars
Many companies are competing for a slice of the digital-wallet market, betting that customers will prefer the convenience of not having to handle cash.
In the UK, Barclays has launched Pingit - a smartphone app that lets users transfer up to £750 a day to family, friends and small businesses.
The O2 Wallet is a rival app that allows "money messages" to be sent, and automatically fills in address and payment details for online purchases.
Later this year Visa will launch V.me, an app that allows user to store the details of several payment cards in their phone and then use them to make NFC payments.
In the US, Google already runs a similar service, Google Wallet, while Microsoft has unveiled plans for its own NFC-based Wallet Hub for Windows Phone handsets.
Ebay's PayPal unit has also teamed up with local payments firm Discover Financial Services to offer an alternative to NFC. It allows smartphone owners to make in-store purchases by typing in a telephone number and personal ID code at the cash register.
Benjamin Ensor, research director at tech specialists Forrester Research, said we were seeing the emergence of "digital-wallet wars" as telecoms, banking services and technology companies all sought to carve out a share of the nascent market. But he added they all faced the problem of low-level adoption.
"The key thing for any new payment system is finding a trigger to get people to use it in the first place," he told the BBC.
"The challenge for mobile payments for the past decade - and possibly the coming one - is that in theory you can use mobile payments for almost any payment you want, but there are very few that you can only do using mobile.
"People need to see clear benefits if they are going to want to overcome the barriers involved in learning and using a new system. So, deals like this bring more horses to the water, but the challenge is still getting them to drink."