AmazonLocal daily deal service launched in UK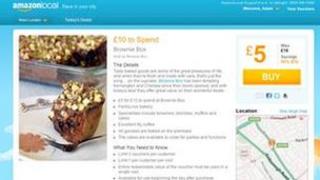 Amazon has launched its own daily deal website in the UK, beginning with London.
AmazonLocal will email geographically-relevant offers to users every morning, and offer reward points to those using an Amazon credit card.
It enters a hotly-contested market led by Groupon which recently suffered a dip in share price owing to lower-than-expected sales.
Amazon has not yet given details of expanding the service across the UK.
In the US, where AmazonLocal has been in operation for more than a year, the service is available in most major cities.
"Our aim is to be the place where customers can come to find anything that they want to buy online, so offering great deals from local businesses like restaurants, spas and theatres is a logical addition to the tens of millions of products that can already be found at Amazon," said Gordon Willoughby, director of AmazonLocal for Europe.
"This is day one for AmazonLocal.co.uk and we will focus our efforts on providing a first rate customer experience for Londoners."
The new service is also being used to promote Amazon's credit card offerings.
Customer scrutiny
The daily deal market has been the focus of huge excitement and investment, typified by the rapid growth of Groupon which was once described by Forbes as the "fastest growing company ever".
But recent trends suggest a more volatile future for daily deal websites.
Earlier this month, Groupon suffered a share slump of 26% after revenue came in below Wall Street's expectations.
Other sites, such as LivingSocial and KGB Deals, are suffering from increased customer scrutiny - as well as fears from some businesses that using such sites to promote themselves can have a negative impact.
However, despite the wobbles, Peter Shankman, a digital marketing specialist, is not surprised Amazon is keen to muscle in.
"Amazon has two things to motivate them," he told the BBC.
"First one: why the heck wouldn't they? They have tremendous brand influence worldwide.
"The second reason falls under the concept that they don't need this to be their profit centre. If it works, great."
He said he believed the future of daily deals lay in being part of a wider company, like Amazon, rather than as a stand-alone business.
"You're not going to see another Groupon-like company launching anytime soon," Mr Shankman said. "They're getting the heck kicked out of them."