Sony unveils new touchscreen computers at IFA trade show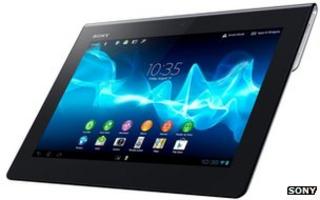 Sony has made an attempt to jump start sales of its tablet computers at Berlin's IFA consumer electronics show.
The Japanese firm unveiled a new 20-inch (51cm) Android-powered device which it said was "splash-proof" and thinner than its previous models.
It also launched a computer - designed to run Windows 8 - which uses a sliding hinge to switch between tablet and laptop modes.
Sony's early efforts in tablet computing missed sales targets.
Kitchen computer
The new Xperia tablet follows other models released in April last year. At the time it said it wanted to be second in the market to Apple's iPad.
But competition from Amazon's Kindle Fire, Samsung's various tablets and Google's new Nexus 7 have prevented that from being the case.
Sony is not the first to release a water-protected model, but appears the company believe the feature will add to its device's appeal.
"Splash-proof Xperia Tablet S is designed for real-life use around the home and outdoors, so there's no need to worry about casual water spillages if you're checking a recipe in the kitchen with wet hands," it said in its marketing materials.
The hybrid design of its Windows 8-based Vaio Duo 11 model adopts a concept that has long been promoted by chip designer Intel.
But Apple's Tim Cook has previously questioned the appeal of converging two different types of computer.
"The problem is that products are about trade-offs," he said earlier in the year. "You can converge a toaster and a refrigerator, but those things are probably not going to be pleasing to the user."
Much larger
Sony also showed off what it called a "family touch" design. The Windows 8-powered Vaio Tap 20 touchscreen computer comes with a built-in stand and can either be used upright with a keyboard, or laid back near-flat against a table.
At 20 inches the screen is much larger than traditional tablets. Sony said it was designed to be used by more than one person at a time. It gave the example of two children drawing on its screen while sitting on opposite sides of a table.
"The tablet market is very competitive" said David McQueen, principal analyst at tech consultancy Informa.
"Apple's iPad continues to dominate the sector, but there are still ways to grow the market either by differentiation with screen size - as we've seen with one of Sony's models - or with price and distinctive features.
"However, the release of Windows 8 later this year will only bring more companies into the sector as traditional PC-makers and Microsoft itself release touchscreen computers."
Sony also announced three new smartphones and its first 84in (213cm) 4K-enabled television, offering four times the resolution of 1080p high-definition displays.
The TV matches the size of a model announced by LG last week.