San Diego Zoo looks to nature to create new gadgets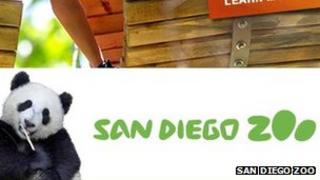 San Diego Zoo in California has opened a Centre for Bioinspiration, which aims to take ideas from nature to see if they can be applied to solve human issues.
The concept is known as biomimicry.
San Diego is home to Qualcomm, a firm that has been studying light reflection on butterfly wings to design its Mirasol e-reader display.
It is thought to be the first biomimicry research centre based at a zoo.
"In this field, you need to look at the biological world as your first step. It may be surprising that it has taken so long to have a centre with close ties with a zoo," said Prof George Jeronimidis of the University of Reading in the UK.
The zoo's scientists and animal care staff will research the biology of plants and animals, and the centre then aims to collaborate with organisations around the world to develop actual products.
The head of the new division, Larry Stambaugh, said that "nature has faced all of the challenges that we humans face today and has solved them".
"If we look at nature, we can find solutions to almost any challenge, like developing sustainable building materials or non-toxic advanced colour solutions."
Fly like a bird
People have long been looking at nature to help them solve their own problems.
For instance, in 15th Century Italy, Leonardo da Vinci studied birds' anatomy while sketching his "flying machine".
His device never took off, but the Wright brothers did manage to build the first aeroplane in 1903 - after years of observing pigeons.
Probably one of the most notable nature-inspired technologies is the well-known hook-and-loop fastener, Velcro, which copies the tiny hooks on the surface of burrs.
Whalepower, a Canadian wind power company, mimicked the fins of humpback whales while designing its turbine blades. The solution helped reduce the drag and increase the lift.
"Biology has had a much longer time - 3.8 billion years - to address problems, and a lot of the problems are similar to those we face," said Prof Jeronimidis.
"One of the most interesting things about biology is its enormous capacity to adapt when there are big changes.
"Species disappear, other species evolve - and the mechanism for adaptation is where we can learn something that we can then translate and transpose in our own environment."