September smartphones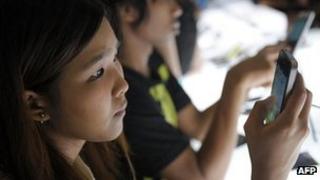 Prepare for a month of mobile marketing overload. The big mobile phone players are launching new handsets in the coming days which will be crucial in deciding who'll be top dog in this lucrative business - or, in some cases, whether they survive as a major player.
On Wednesday in New York, Nokia has a major event where it is expected to unveil its first Windows 8 device. That phone may determine whether the Finnish giant pulls out of its downwards spiral - and also whether Microsoft can ever be more than a niche player in the mobile industry.
Next week in San Francisco, Apple is expected to launch its latest iPhone. As I write, the notoriously secretive company has not even confirmed that an event is taking place - but it has to put a new device out soon or sales will surely slow to a trickle because the current models will look very last year to fickle phone buyers. What will the new phone be called? If Apple's last iPad is a guide, it may just be The New iPhone.
And meanwhile new Android phones from Samsung, HTC and Motorola - now in the hands of Google - will be fighting for their own headlines. So, as the battle hots up, what do the figures show about the current state of the market?
I've looked at various reports from research firms like Gartner and IDC, and one message comes through loud and clear. Android and Apple have grabbed most of the smartphone market and just about every penny of profit.
So, according to IDC, Android accounted for 68% of smartphone shipments in the second quarter of this year, with Apple's iOS capturing 17%. The Blackberry operating system fell below 5% - less than half of what it achieved last year - while phones running the Windows Phone 7 system had just 3.5% of the market.
Gartner, meanwhile, has figures on manufacturers' market share of smartphones actually sold which show a similar story. Samsung has nearly 30%, Apple 19%, with Nokia on 7.6% - that includes some Symbian phones which won't be around for much longer. The figures also show that the Blackberry maker RIM, with 5.2%, has fallen behind Taiwan's HTC on 6.2%.
It would take a brave pundit to bet against Samsung and Apple still being on top of the pile by Christmas. The question is whether the likes of Nokia, HTC and Motorola can make a big enough impression with their new devices to convince consumers that it is cool to have something different. And, with Blackberry 10 now not out until 2013, Research in Motion risks being left even further behind.
I'm going to be in New York for the Nokia launch, hoping to ask the CEO Stephen Elop whether he is confident that the ailing giant of the mobile industry is at last turning the corner. Watch out for that, and for other news from the front in the smartphone wars.