FBI denies link to leak of 12 million Apple codes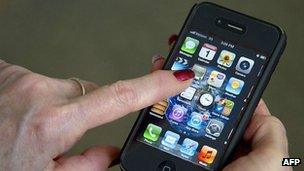 The FBI says there is "no evidence" that a hacker group gained access to 12 million identifying codes for Apple devices via an FBI agent's laptop.
AntiSec, a hacker group, posted a file on the internet on Monday that it said contained more than one million of Apple's so-called UDID codes.
UDIDs are a 40-character string unique to each Apple device.
AntiSec said it gained the codes from the laptop of an FBI agent called Christopher Stangl.
AntiSec suggested that the 12 million codes were being used by the FBI to track the associated users.
Along with the posted file, the group said in a statement that it had only released one million IDs and had scrubbed identifying information, including full names, telephone numbers and addresses.
Commenting on the AntiSec revelation, the FBI said it had no indication of any link to its agent or computer.
"At this time there is no evidence indicating that an FBI laptop was compromised or that the FBI either sought or obtained this data," the bureau said in a statement on Tuesday.
Peter Kruse, an e-crime specialist with CSIS Security Group in Denmark, tweeted on Tuesday that the leak "is real" and that he confirmed three of his own devices in the data.
Johannes Ullrich of the SANS Internet Storm Center told the AFP that while "there is nothing else in the file that would implicate the FBI... it is not clear who would have a file like this".
Hackers identifying themselves with AntiSec have made previous hits this year on the websites of Panda Labs' anti-malware products and New York Ironwork - a company that sells equipment to US police.