Digital wallet 'Project Oscar' scheme approved by EU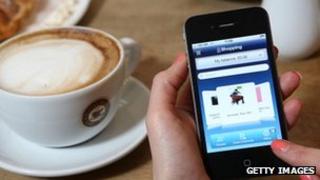 The UK's leading mobile operators have been given permission to team up on Project Oscar, a digital wallet scheme.
The green light from EU regulators means Everything Everywhere, O2 and Vodafone will jointly develop the product. Three is not involved.
The firms said they now aimed to release a unified smartphone-based service offering an alternative to cash, credit cards and loyalty cards.
Barclaycard, Visa, Paypal and Google are among those with rival schemes.
The mobile operators said in a statement: "It will give consumers a simple and secure shopping experience, allowing them to purchase goods and services using their handsets in physical locations such as shops, using contactless technology, as well as online."
A spokesman for Three said it hoped to be involved at some point soon.
"We are pleased the European Commission has taken a thorough look at the proposed m-commerce joint venture," he said.
"We are still studying the detail but we understand that its investigation has found no significant competition issues.
"We will continue to monitor developments closely and look forward to the invitation to become a customer of the joint venture on the same terms as all participating UK mobile operators."
'Wide open'
The three participating operators said the plan would make it easier for retailers and others to offer discounts and other incentives without the need to issue paper coupons or plastic account cards.
The firms had originally hoped to have the service running in time for the London Olympics, but the EU had wanted to check it would not hinder competition.
One industry watcher told the BBC that the mobile operators' success was not guaranteed since a wide range of other companies involved in financial services and the mobile device industry had shown interest in the area.
"The market is still very much wide open," Windsor Holden, research director at the analysts Juniper Research told the BBC.
"While we have a number of mobile wallet solutions now being deployed, as far as adoption goes it is still a nascent market.
"The level of awareness about the various options is still low. What is absolutely critical is educating the public that phones can be used in this way, and the winner will be the businesses who succeed in doing this and convincing both shoppers and vendors that it is easy to use."
Vodafone, O2 and Everything Everywhere have said they intended to create a new company and begin hiring staff "as quickly as possible", but did not issue a target date by which they hoped to launch a product.