Samsung faces fresh claims on Chinese factory workers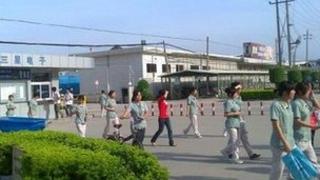 A campaign group has accused Samsung of "illegal and inhumane violations", days after the firm promised to widen its own checks on its factories in China.
New York-based China Labour Watch (CLW) says it has evidence of long working hours, under-age workers and poor conditions in eight Samsung factories.
In response, the South Korean firm said it would "re-evaluate working hours".
CLW conducted its research by going undercover in the Chinese factories as well as interviewing the workers there.
"We frequently review our manufacturing facilities regarding overtime work," said spokesman James Chung.
"When new production lines are completed or new products are launched, high demand has led to overtime work," he added.
Fake IDs
Of the eight factories, six were Samsung-owned and two were suppliers to the company.
CLW's report highlights 16 incidents of "labour mistreatment", including workers having to work more than 100 hours overtime per month and standing for up to 12 hours a day, a lack of worker safety and verbal and physical abuse.
It said it had found evidence at least three of the factories were hiring workers under 18 years of age and says one "did not take any actions to prevent the hiring of child workers even when they know about them".
It is legal for 16-18-year-olds to work in such factories and many employ students.
But the report said a lot of these student workers did not receive a legitimate labour contract and often had to accept work as part of graduation requirements.
It also accuses management at the SEHZ factory of hiring under-age workers by changing the name on the young person's ID card to make them appear older.
Staff told CLW investigators under-age workers entered factories with fake IDs.
Samsung has always strongly denied employing under-age workers, saying it has "zero tolerance" on the issue.
The findings come just days after Samsung responded to a previous CLW report into working practices at its supplier HEG's factory.
It said it would ask HEG to address "potentially unsafe practices" and other issues.
It added it would also carry out checks of 249 other suppliers.
Unlike Apple, Samsung has not yet agreed to checks from independent third-parties.
Education
Technology firms are coming under increasing scrutiny for their labour practises in China, since a flurry of suicides at Foxconn, Apple's leading supplier.
Increasingly journalists are conducting their own interviews with workers.
Leslie T Chang spent time in the city of Dongguan, interviewing women aged 18 and 19 who work in the factories there.
She thinks too little attention is given to what the workers really want.
Presenting her work at this year's Ted conference, she was asked afterward what she would say if she had one minute with Apple's head of manufacturing.
"If you really want to help these workers, start small, focused classes," she said.
" When you talk to workers, that's what they say — they don't want hot water or shorter hours, but education."