Google Maps uses Ground Truth project to battle Apple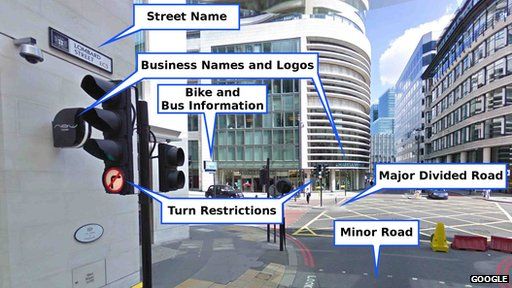 A new front opens up in the smartphone battle between Google and Apple this week when the search giant's mapping technology is dropped from iPhones and iPads' Maps app when they are upgraded to the latest version of the iOS operating system.
The move is a blow to Google: it is likely to impact advertising sales because it will not be able to show "sponsored links" on iOS's default maps, and it will stop receiving data about how people use the software.
Until now Google has dominated mobile maps. Android and iOS jointly account for about 85% of global smartphone shipments and an even higher percentage of tablets according to research firm IDC.
It was against this backdrop that the man in charge of Google Maps, Brian McClendon, offered a rare one-on-one interview to the BBC.
He promised to lift the lid on how Google Maps worked and, as it emerged, explain why his firm's ownership of its location data could give it the upper hand.
"I would say that any company that is based on licensed data would face the same challenges we did in 2008," Mr McClendon says, referring to the fact that Apple's product will rely on material from Dutch company TomTom.
"The amount of investment we are doing in creating map data as opposed to licensing it is significant, and the difference is measurable in basically every single country in the world."
Google launched its mapping technology in the UK and US in 2005.
Initially it relied on location data from others.
Within three years it used this to extend the service to 22 countries, but the engineers running the project had become frustrated with its scope.
"What we wanted was a deeper and more comprehensive base map," Mr McClendon says.
"We decided to start a project called Ground Truth, and this was really to build our own maps from scratch. We would start with licensed data and we would find whatever we could where we could get full rights to the data and improve it from there."
This involved mashing together existing third-party mapping data with Google's own analysis of satellite images and information taken from its new Street View service.
Street View is perhaps best known to the public as a way to take a virtual tour of an area.
The firm sent cars fitted with special nine-lens cameras along roads recording panoramic photos as they went.
These are posted online allowing users to spin around a 360 degree view of the area, zoom in and out, and click on the pictures to travel from one spot to another.
But Google's computers also analyse the images to identify street signs, speed limits, addresses, business names, rights of way at road junctions and other information. Human operators then check over each area to correct mistakes before the data is incorporated into the maps.
"The benefits of having Street View can't be undercounted," Mr McClendon says.
"We have over 20 petabytes [21.5 billion megabytes] of imagery and have driven and published over five million miles of Street View roads."
Google also takes account of issues flagged by users who click on its "report a problem" link.
Human operators cross-check suggested corrections with Street View images to ensure they are not outlandish before making the amendments.
Finally, the firm analyses data sent back by drivers using its product, for example noting if a road is one-way and making sure this corresponds with its map labels.
"One of the challenges to licensed data is that when the data is being managed by a third-party company it can take months or even a year or more to update the data you get even when you know something is wrong," Mr McClendon adds.
"Reducing the time frame to minutes has been very very useful to us because typically when users see that their input was heard they give more input."
So far the Ground Truth project covers 31 nations - places where there was already decent data Google could license to use as the foundations for its process.
Now it is about to embark on what it calls Ground Truth 2.0, extending the system to "more difficult" regions.
Top of its list is the country with the world's fastest growing population.
"There hasn't been a good map that has named all the villages in India to date," says Mr McClendon.
Google is not starting entirely from scratch in India.
Some locals have already used Map Maker - a Google service which allows users to add roads, rivers, local businesses and other information to the data it licenses.
But Mr McClendon acknowledges that his team have a lot more work to do before its maps of the country match those of the UK or US.
"It's a huge challenge - there's many more people, many more villages and the documentation and information is much less," he adds.
Beyond Ground Truth, Google also aims to improve its service by mapping the interiors of more buildings - the current emphasis is on transport hubs, shopping centres, museums and business that pay for an approved photographer to visit them.
However, Mr McClendon draws the line at the idea of adding people's homes.
"I think private is something Google wants to stay out of," he says.
Looking further ahead he adds that his ambition is to go beyond offering a pixel-perfect 3D version of public places.
"It's not just being able to draw it in the virtual reality sense of saying 'here we've reproduced the current world', but to understand the data, to know this is the doorway to a business, this is the path to the stairs... this is a public building, these are private areas," he says.
"The more information we can provide the users about where they are and where they should go, I think that will give everybody the confidence in their ability to travel and their ability to interact as they won't worry am I allowed to do this, or should I go there."
Not everyone will be comfortable with Google extending its reach this way, particularly in light of the fact its Street View cars collected users' emails, passwords and other personal data for more than two years before the practice was put to a stop.
Google later said the action had been "inadvertent", but it was not helped by the fact that it subsequently failed to delete the data gathered as promised. Exactly why the firm let the material be gathered in the first place is still unclear.
"I can't comment on that based on the ongoing discussions," was all Mr McClendon would say on the matter.
Some will also be unhappy by the prospect of more ads. Mr McClendon himself acknowledges "local advertising is going to be a critical part of any mapping or local search experience".
But for many, such issues pale against the idea of a world without "free" mobile maps, and Apple's entry into the sector is seen as a driving force for further innovation.
The move does not mean Google will abandon iOS users. Mr McClendon stresses they will still be able to access Google Maps via their devices' web browsers, although he would not be drawn about the idea of offering a rival Maps app.
"We want to have a presence on every device," he said. "Whether it's a web based map or anything else we will have, the users will be able to decide."
Related Internet Links
The BBC is not responsible for the content of external sites.