Omnifone swings to profit as piracy crackdown continues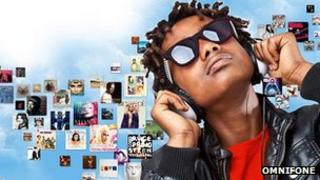 Omnifone - the British firm that powers music streaming services from Sony and Blackberry - has posted its first annual profit in its nine year history.
The firm filed a pre-tax profit of £2.9m for the year-to-April, compared to a £21.7m loss last year.
Its chief executive linked the news to efforts to restrict internet piracy.
Jeff Hughes added that Omnifone now intended to make its service available to smaller businesses, paving the way for new music subscription products.
The London-based company's Music Station platform takes care of licensing, digitising and copy-protecting songs on behalf of its clients, as well as providing tools so they can offer their own music streaming software under their own brand.
This includes access to about 22 million tracks across 28 countries on both PCs and mobile devices.
Sony Music Unlimited, Research in Motion's BBM Music and Omnifone's own Rara - which comes pre-installed on Hewlett Packard PCs - are all powered by the cloud-based technology.
The products compete with rival streaming services such as Spotify and Grooveshark; online music shops, including Apple's iTunes and Amazon's MP3 store; and tailored internet radio stations such as Last.fm and Pandora.
Piracy crackdown
Mr Hughes told the BBC that his company had invested about $60m (£37.5m) in its platform over the past half decade to get to this point.
He added that recent high profile efforts to crack down on file-sharing sites - including internet service providers (ISPs) blocking access to The Pirate Bay, and the closure of the Demonoid BitTorrent tracker - had helped drive up earnings as users had been encouraged to opt for legal streaming alternatives.
"A corner has been turned - there is no doubt," he said.
"I don't think the growth that we're seeing now, or that's projected in the future, could happen if we didn't turn the corner. The music industry was bought to its knees by piracy almost simply because the files were small so they were the first [type of media] to go.
"Therefore the music industry adapted first, it tried to fix itself first, and I think it has made big strides."
Expanding the market
Omnifone's business model sees it share in the revenues its partners make from their subscription services - and it now intends to extend this to smaller brands and start-ups.
Over the next year it intends to offer a cheaper, stripped-back version of its Music Station package to about five partners.
Over time the plan is to extend this further, but Mr Hughes said Omnifone would not flood the market with new services.
"I don't think we will ever open it up to everyone," he said.
"My plan is not to just say anyone who wants to get involved: get on it's free. I don't think that works and I think it would be an undisciplined approach to a business that needs to be disciplined.
"I think we will probably open it up to another dozen partners... and there will be some winners and losers."
However, one media analyst questioned whether this move would be a success.
"Omnifone has had a long struggle and it's now competing against services like Spotify and Pandora that do their own platforms and analytics rather than outsourcing them," said Alice Enders of Enders Analysis.
"Our work suggests the market is coalescing around these top brands, and the danger for Omnifone is that it ends up creating new entrants that compete for a small section of the market already inhabited by its own Rara product."