Chile hopes earthquake technology can help save lives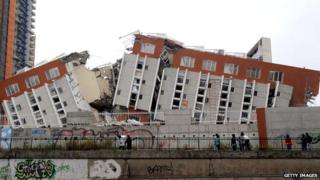 On February 27, 2010 at 03:34 in Chile, the dark skyline shivered, as an 8.8 magnitude earthquake flattened homes, levelled bridges and burst water pipelines.
The quake killed 525 people and inflicted $30bn (£19bn) in damage.
Clogged mobile networks left millions unable to connect with loved ones, and the authorities found it difficult to send out warnings.
The country is used to shaking ground - in the past two years alone it has experienced more than 40 earthquakes of magnitude six or higher.
Earthquake-related apps are already available for the country's smartphone users to access, providing real-time reports from geo-tagged Twitter users, compiling information on from reporting agencies around the world and outlining danger zones on Google Maps.
But the Chilean authorities are trying to do more - by adopting existing technologies on a bigger scale or pressing ahead with ideas that have not yet been tested during a quake.
Buildings intact
One of the most promising and fundamental technologies has been a seismic isolation system created by Chilean company Sirve that helps buildings remain intact when everything around them breaks into pieces.
Huge steel structures support a building from below, acting like a car's shock absorbers. They twist independently of the shaking ground and buffer shakes rather than allowing the building to warp.
In addition, there are massive concrete blocks, weighing 160 tonnes each, which hang inside the building. The weight and their ability to swing like a pendulum offsets the ground's sway to further stabilise the structure.
"It is a tremendous challenge to use engineering to counteract a natural phenomenon that is unpredictable and very complex," says Juan Carlos de la Llera, co-founder and president of Sirve.
The company claims that the technology can reduce structural damage to a building with fewer than 15 floors by up to 90%, and if there are more than 15 floors, by up to 50%.
Following the 2010 quake, all the 13 structures in Chile built with Sirve's system remained standing, including the country's tallest building, the 52-floor, 190m-high Titanium tower in Santiago.
But more than 370,000 homes were destroyed, many of them in Chile's poorest areas.
By 2011, demand for Sirve's technology had tripled, and Mr De la Llera says the government is now planning to use the system for new low-income housing.
Water challenge
Another major issue that arises during an earthquake is access to water in communities that become cut off because of burst pipelines.
Tohl, a US water delivery start-up based in Atlanta, Georgia, aims to solve this problem.
It was founded during the aftermath of the devastating quake in Haiti in 2010 that killed about 316,000 people.
It is yet to be tested during a real disaster, and Chile is one the countries ready to give it a try if it becomes necessary.
The company's founder, Apoorv Sinha, says that the original objective was to have "a better way of helping save lives".
The method seems simple - a pipeline made of polyethylene - a flexible, easy-to-transport but durable material - is put into a water source. The other end is then attached to a helicopter and dragged along the ground all the way to the stranded community.
Unlike traditional, metal installations, Tohl's tubing can run uninterrupted for distances from 500m (1,600ft) to a few kilometres, lowering the price and cutting hours of installation time into minutes.
This summer, the firm tested the tech in the mountainous terrain of San Jose de Maipo, a town 48km south-east of Santiago in the Chilean Andes.
It had been expected that laying 1km of pipeline would take up to an hour - but it took just a few minutes, said Tohl's president, Benjamin Cohen.
Instant alerts
When a city is full of rubble, one of the first thoughts that crosses people's mind is about their loved ones.
As everyone tries to connect using landlines and mobile phones, networks become severely overloaded.
This has an effect on official warnings. For the government, it is also tricky to get through to the population.
To deal with the problem, the Chilean authorities imported new emergency alert technology in 2011.
The software, developed by Israeli company eVigilo, uses a geo-targeted system that allows the officials to send out mass alerts simultaneously to computers, pagers and mobile phones, as well as radio and television.
Messages are meant to reach millions within seconds - even if all networks are busy.
"It's important for the state to have alternative tools allowing it to communicate with people," says Feliks Vainik, co-founder of eVigilio.
The system has not yet been tried during a disaster, but Mr De la Llera of Sirve hopes that this - along with all the other innovation - will help save lives, avoiding another situation where the result is misinformation and rubble.
"By nature, humans endlessly seek different ways to overcome natural forces like climate, earthquakes and many other natural disasters," he says.
"In my way of seeing it, there's no reason today not to protect [us] from earthquakes if the technology exists to do it."