Winklevoss twins 'invest $1m' in new social network SumZero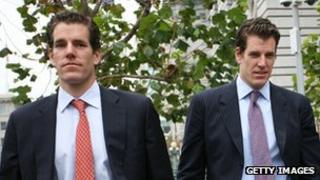 Tyler and Cameron Winklevoss, famed for their legal dispute with Facebook, are reported to have invested $1m (£620,000) in a new social network.
The twins sued Facebook founder and owner Mark Zuckerberg, alleging the billionaire had stolen their idea.
The Wall Street Journal reported the twins had now backed SumZero, a site aimed the financial community.
It is the first investment made by Winklevoss Capital, a firm set up using money from their $65m settlement.
SumZero, which has about 7,500 members, was founded by fellow Harvard alumni Divya Narendra and Aalap Mahadevia in 2008.
According to the Wall Street Journal, the site aims to bring together investors to discuss trading ideas and research.
It shares characteristics with Facebook's early days - only members of a specific network, in this case investment professionals, can sign up.
Supreme Court
The twins' lengthy battle was portrayed in the 2010 film The Social Network, in which the story of Facebook's beginnings at Harvard University is dramatised.
In 2008, the pair agreed on a reported $65m (£41m) settlement, a mixture of cash and shares.
In January 2011, the twins sought to re-open the case and claim for more money, but a US appeals court ruled they would have to accept the settlement.
In June 2011, the Winklevosses dropped their efforts to have their case against Mr Zuckerberg heard by the Supreme Court.
Days later, they filed a new complaint, alleging Facebook "intentionally or inadvertently suppressed evidence" during their previous litigation.
Speaking about SumZero to the Wall Street Journal, Tyler Winklevoss said: "We want to get involved and really roll up our sleeves."