Viewpoint: Why WoW's future is not black and white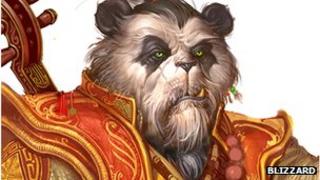 As Activision Blizzard prepares to release the Mists of Pandaria expansion for World of Warcraft, academic Ladan Cockshut wonders what it means for the future of the game.
World of Warcraft is a big game. Really big. It's big in numbers, big in reach, and big in size.
And the game is about to get bigger with the launch of its latest expansion on 25 September - Mists of Pandaria.
WoW's trajectory from its roots as a single player computer game, Warcraft, in 1994 to its continued domination of the online multiplayer game market since its launch in 2004 illustrates how gamers often develop deeply rooted ties with the games they love to play.
Once we become interested in a game and its franchise, we often want as much of its content for as long as possible. New editions or expansions to games are often as highly anticipated as a sequel to a popular film.
In the case of a massively multi-player (MMO) game such as WoW, its content has to be sustainable by design.
Unlike other games with a beginning, middle, and end, an MMO is not designed with an end in sight. And getting gamers into a long-term relationship with such a game requires that there's a lot to do.
As a result, WoW's designers release new game content regularly. Mists of Pandaria represents Activision Blizzard's fourth expansion of the game since its launch and the company claims that this is its most ambitious expansion to date.
It does give players more to do by letting them go questing on a heretofore mist-shrouded island with a new race called the Pandaren, an anthropomorphised race of giant pandas.
Macabre look
In addition to the changes and improvements to the game, the expansion has raised certain questions.
First let me address the giant panda in the room: China. It's been speculated (and with some justification) that this expansion is not just about infusing new content into the game, but also about expanding its player base in Asia, China in particular.
You only have to watch the trailer for Mists and know where pandas come from to get China on the mind. And it does seem like the current content, with its softer landscape and Asian theme, has ensured a speedier release of the expansion in China at least.
Due to earlier problems with some of the game's macabre appearance, Blizzard had to make visual and narrative modifications to secure approval for a Chinese release, which often resulted in significant delays of its launch there.
Mists has been approved for release on 2 October, however, only a week later than elsewhere in the world. This Asian-themed expansion could result in Chinese gamers feeling a sense of "ownership" over the game and could widen the Chinese player base, something I'm sure Blizzard is banking on, considering the recent slump in subscriptions.
Player base
Which brings me to the other point of interest: Will Mists help Blizzard regain some of its lost subscription base, which was 12 million at its peak in 2010 but was down to 9.1 million by mid-2012.
It's hard to fully quantify WoW as its success is unprecedented and, as of yet, unchallenged - but its popularity may be waning.
This perception hasn't been helped by the active attempts by Vivendi, Blizzard's parent company, to sell (unsuccessfully so far) its 60% share in the company this year.
But whether the drop in numbers is due to gamers temporarily cancelling their subscription before the next expansion; longstanding players outgrowing their interest in a game they've been playing for years; or from other MMO titles attracting players is unclear.
While Blizzard claims that the new release of Mists will boost subscription numbers as players reactivate their accounts and new players join in, the real outcome won't be known until figures about the game's release and subscriptions are released later this year.
So while the question of WoW's longterm viability may remain unanswered for now, one certainty is that over the next few days, millions of WoW players around the world will take part in a kind of virtual festival that only comes around about every two years.
And I for one will be joining in as I log in at 11 pm tonight to an expanded game with new changes and opportunities that will, inevitably, recreate this world and how I play it. I'll be armed with a cup of tea and a bowl of snacks as I explore new geography and face new challenges with my friends while wearing my new panda suit.
Ladan Cockshut is a researcher at Durham University studying computer games. Her recently completed thesis is titled:"The Way We Play: Exploring the specifics of formation, action and competition in digital gameplay among World of Warcraft raiders".