Fighting pandas set to join World of Warcraft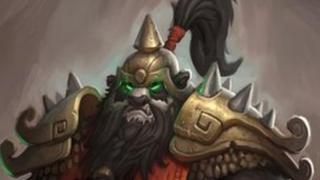 Warcraft's online gaming world is about to get a bit bigger.
The next expansion for World of Warcraft, known as Mists of Pandaria, goes live on Tuesday.
The expansion introduces the continent of Pandaria and its many inhabitants, including martially-adept pandas, to the game.
The Asian-themed game is seen as an attempt to shore up WoW's dwindling subscriber base and cement its popularity in China.
Competition time
In early August it was revealed that the number of people playing World of Warcraft has dropped to its lowest level since 2007.
In 2010, WoW claimed to have more than 12 million players but in June 2012 this had dropped to nine million. About half of these subscribers are believed to be in China.
WoW creator Blizzard has tried several different strategies to keep people playing the game. It has introduced a version that is free to play in the early stages of the game. In addition, it let subscribers get a free version of its other hugely popular title Diablo 3, if they signed a 12-month contract for WoW.
Part of WoW's decline has been put down to growing competition from other top tier games that have launched in recent months. Titles such as Star Wars: The Old Republic, Guild Wars 2, Diablo 3, Runescape and many other free to play games have all drawn players away from the ageing title.
Mists of Pandaria is the fourth expansion for the massively multiplayer online game. Those who buy the expansion will get the chance to play as one of the Pandaren - the fighting pandas. The game also introduces a new character class to the game - the monk who uses martial arts rather than weapons to fight.
As with other expansions, Blizzard is overhauling many other parts of the game at the same time as introducing Pandaria. The expansion will let players control ever more powerful characters; will see changes to the way characters improve their abilities; introduce short challenges for high level characters and let players pit their in-game pets against each other.