Wearable sensor maps disaster areas in real time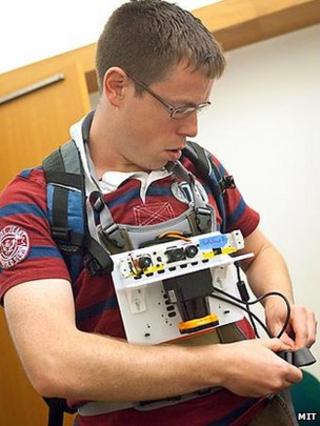 A sensor that digitally maps the area through which the wearer is moving, in real time, has been created by scientists at Massachusetts Institute of Technology (MIT).
The project is supported by the US Air Force and the Office of Naval Research, and could help rescuers in a disaster.
The team will present a paper at the Intelligent Robots and Systems conference in Portugal.
Similar research has been conducted by other companies, such as BAE Systems.
The device developed by the scientists at MIT is a small piece of plastic, worn on the chest.
It consists of accelerometers, gyroscopes, a Microsoft Kinect camera, a laser - called light detection and ranging rangefinder (Liidar) - and a button that allows the user to add text tags to the map to mark points of interest.
The laser scans the area and measures the time it takes the light to reach various objects and return.
According to the team, the more level the rangefinder is, the more accurate the data will be, but in case it is tilted, gyroscopes come into play.
Accelerometers provide information about the wearer's speed, and indicate changes in altitude.
The system is still a prototype, but when tested in closed hallways without any Global Positioning System (GPS) signal, it was able to precisely map the environment as the user was moving through it.
The data was wirelessly sent to a computer in a distant room, in real time.
"The operational scenario that was envisioned for this was a hazmat [hazardous materials] situation where people are suited up with the full suit, and they go in and explore an environment," said lead researcher Maurice Fallon, of MIT's computer science and artificial intelligence laboratory.
"The current approach would be to textually summarise what they had seen afterward - 'I went into this room on the left, I saw this, I went into the next room,' and so on.
"We want to try to automate that."
UK defence company BAE Systems created a prototype of a device called Navsop that also maps the environment, relying on the same signals used by mobile phones, TVs, radios and wi-fi, rather than navigation satellites.
The company told the BBC the system could help find victims inside buildings during a fire and locate stolen vehicles hidden in underground car parks.