Angry Birds-maker Rovio pins growth hopes on Bad Piggies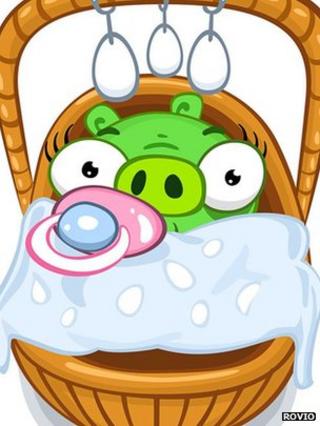 Mobile gaming developer Rovio has launched its latest title, Bad Piggies - a spin-off of its hugely popular game, Angry Birds.
The company hopes its latest effort will prove that its 2009 hit, which has been downloaded over a billion times, was not a one-off.
A more recent Rovio release, Amazing Alex, failed to sustain early success.
If Bad Piggies sells well, some analysts believe Rovio may float its stock as soon as next year.
The game once again features a cartoon-style physics-based environment.
However, instead of launching birds out of catapults players must construct vehicles out of a selection of parts to deliver the swine to a finish line, collecting stars along the way.
The original Angry Birds games attracted up to 200 million active players a month towards the end of 2011.
But the latest instalment, Angry Birds Space, released earlier this year, showed signs that fans were beginning to tire of the franchise.
Despite heavy initial publicity, it has failed to be the financial hit games industry watchers had anticipated.
Likewise, Amazing Alex - a character which Rovio acquired from independent games developer Mystery Coconut - has disappeared from the Top 50 on mobile gaming charts.
'Fantastic wave'
"When Angry Birds launched it rode the perfect storm of mobiles and tablets taking off," said Jack Kent, senior analyst at IHS Screen Digest.
"It had a fantastic wave of word of mouth and celebrity endorsements.
"It's clear that Rovio now needs intellectual property other than the Angry Birds game."
Initial reviews suggest that Bad Piggies offers a tougher challenge than the earlier series, but Rovio appears confident it will still appeal to a casual-gaming audience.
"We see Bad Piggies as a long-term brand-building exercise," said Petri Jarvilehto, said the firm's head of gaming.
"In three years from now we want to see Angry Birds and Bad Piggies as strong vibrant brands out there."
Sales of Angry Birds cuddly toys and clothing made up 30% of Rovio's total turnover last year.
If Bad Piggies can reach the same heights, the company might look to sell shares in the business to the public, following in the steps of Zynga, the social gaming company famed for titles such as Farmville.
Some analysts have speculated that Rovio's market value could be between $6bn and $9bn (£3.7bn to £5.6bn). Such figures would see it brush shoulders with another Finnish technology brand, Nokia.
"Rovio needs to re-establish its reputation for creating hits with legs [staying power]," said analyst Tero Kuittinen, from Finnish mobile analytics firm Alekstra.
"There is no doubt that the pig game will hit number one at launch.
"But it has to stay in top 10 for half a year to erase the doubts that the fast fade of Amazing Alex has created."