Looking back to the future of video games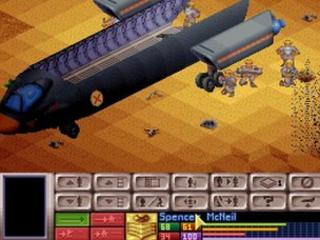 Most of the time, most of the people in the computer industry are looking forward to the future because they are involved in making faster chips, smarter software or smaller gadgets.
But not all of them. In the games industry many developers have been looking backwards of late and spending their time resurrecting games that are five, 10 and 20 years old.
In particular Kickstarter has seen many funding campaigns launched to update versions of older video games such as Carmageddon, Broken Sword and Wasteland.
Challenge accepted
Another example of this trend is Xcom: Enemy Unknown. It is an update of the classic UFO: Enemy Unknown game first released in 1993.
UFO put the player in charge of the clandestine Xcom military unit that had to save the Earth from alien invasion. The strategy game mixed managing the resources of the cash-strapped organisation with turn-by-turn combat against the alien menace.
UFO's unrelenting pace, the need for tight management of cash, research and engineering resources and the deadly combat with the aliens combined to create, so some say, one of the best video games ever.
Why would anyone attempt to improve on what was a classic?
"It was certainly challenging," said Garth De Angelis, one of UFO's lead producers at Firaxis, better known for the Civilisation series of games.
Some of the biggest fans of the original were found within Firaxis, he said, and the re-make was born out of their affection for it and the fun they had playing it first time around.
In particular, he said, one of the key elements they had wanted to keep was the challenge involved in defending Earth from the alien menace.
"In the last five years or so a lot of gamers have noticed that games have become simplified," he told the BBC. "The challenge has been turned down."
Darran Jones, editor of Retro Gamer, said the boom in old titles and re-makes of ageing classics had many influences, but a key one was the homogeneity of many current games.
"There's a lot of blandness in the industry these days," he said. "Every game we saw at the recent E3 show seemed to be a cover-based shooter. They are popular so everyone is making them."
Also, he said, some games makers looked back because the play-testing and marketing of older games has, in effect, already been done. A spruced up version of a popular old game is likely to interest those former fans and its playability might tempt some younger folks too.
Back and forth
Alec Meer, a journalist at games news site Rock Paper Shotgun, said the re-appearance of older titles was part-push from the developers and part-pull from fans.
"Re-makes and reimaginings are happening because there's a very real demand for it, and the ability for those who [create that] demand to co-ordinate online means the industry is that much more aware of it than before," he said.
Unfortunately, he said, some games makers were trying to exploit nostalgia for the purposes of brand recognition. Many projects started this way have not gone well. For example, he said, the 2011 re-make of classic strategy game Syndicate produced an "uninspired first-person shooter" that drew in few new fans.
"There have been several Kickstarter projects that hinge too heavily on 'Hey, weren't things great 15 years ago?' and not enough on how to reinvent and further the genres and games of the 90s," he said.
But there were projects, he said, that grew out of game maker's ongoing fascination with the concepts, values and mechanics seen in those older titles. The hard part, he said, was updating those older ways of playing to meet the demands of modern gamers.
"Xcom succeeds, I think, because it's at least as cognisant of being a truly 2012 game as it is of tapping into a 1993 classic," he said.
But, he cautioned, if it sold well gamers could see an invasion of a different kind.
"It will likely prompt a flurry of resurrections of old brands from other publishers," he said.