Nissan steer-by-wire cars set for showrooms by 2013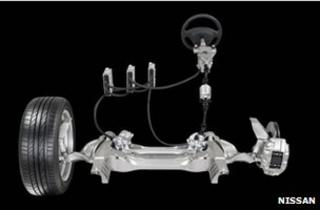 Nissan plans to sell cars controlled by steer-by-wire technology within a year.
The innovation works by sending electronic signals from the steering wheel to a computerised unit that then controls the movement of the tyres, rather than using mechanical links.
The tech is commonly used in aeroplanes, but the Japanese firm said it would be the first to apply it to mass-produced cars.
However, it might need to overcome motorists' safety concerns.
Although the vehicles would still be controlled by a human, one analyst said the development could eventually be incorporated into driverless cars.
Controlled feedback
Nissan said that users would benefit from an improved driving experience since their intentions would be transmitted to the wheels faster than by using a hydraulic and mechanical system.
In addition it suggested that the development would "insulate" motorists from disturbances caused by unnecessary feedback.
"For example, even on a road surface with minor ridges or furrows, the driver no longer has to grip the steering wheel tightly and make detailed adjustments, so travelling on the intended path becomes easier," it said in a statement.
Some car buyers may be wary about the idea of putting their lives in the hands of a computer system after other related efforts proved problematic.
In 2004 Mercedes-Benz faced customers complaints that its Sensotronic brake-by-wire system - which used an electrical link to control vehicles' brake pads - sometimes failed.
Although the vehicles had a hydraulic back-up it meant some owners had experienced longer stopping distances.
The firm ultimately recalled about two million vehicles and dropped the feature.
More recently Toyota had to ask Prius owners to take their cars into garages to install a software update after reports some models had suffered from "inconsistent brake feel".
Nissan appears to have borne these issues in mind by deciding to install a back-up clutch system in its steer-by-wire vehicles, to link up their steering wheels and tyres in the event of a problem.
However, it signalled it hoped to be able to ditch the safety measure in the long term.
"If we are freed from that, we would be able to place the steering wheel wherever we like," said Masaharu Satou, a Nissan engineer.
"Such as in the back seat, or it would be possible to steer the car with a joystick."
For the time being the addition of the clutch system adds back weight to the vehicles, undermining another potential benefit of the technology - better fuel efficiency.
Driverless cars
Jay Nagley, managing director of the Redspy auto consultancy, said he thought the development would catch on.
"I think initially people will find it a bit spooky but will be reassured by the fact there is a mechanical back-up if required," he told the BBC.
"But over time I'm sure people will get used to it as its part of the bigger picture of self-driving cars where drivers don't have to be in control at all times."
Volkswagen has already tested drive-by-wire technology in a modified version of its Passat model that has driven itself along Berlin's roads.
Volvo has also incorporated the facility in tests of its self-drive "road train" concept, which involves a convoy of cars using drive-by-wire tech to mimic the actions of a lead vehicle.