Stanford Ovshinsky, hybrid car battery inventor, dies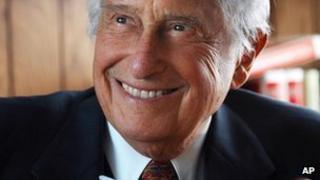 Stanford Ovshinsky, a self-taught American physicist who designed the battery now used in hybrid cars, has died aged 89 from prostate cancer.
The electronics field of ovonics was named after Mr Ovshinsky, who owned over 200 patents and has been described as a "[Thomas] Edison of our age".
He introduced the idea of "glass transistors" in 1968, which paved the way for modern flat-screen monitors.
He and his first wife Iris set up a firm called Energy Conversion Devices.
The firm specialises in manufacturing the nickel-metal hydride batteries he designed, which are still used in hybrid vehicles, and also produces large thin, flexible sheets of solar panelling also invented by Mr Ovshinsky.
He received various honorary degrees and awards but had no formal education after high school. He claimed to have taught himself science by using the public libraries of Ohio where he grew up.
His son Harvey said he was "determined to change the world".
"My father worked tirelessly 24-7, even up until he got sick, to change the world and its attitude toward sustainable energy and alternate platforms for information," he added.
Mr Ovshinsky is survived by his second wife Rosa, brother Herb, seven children and six grandchildren.