Web host for SumoTorrent site 'liable for damages'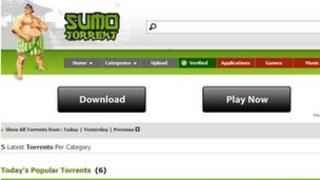 An anti-piracy group in the Netherlands, Brein, has won a landmark case, making a file-sharing site's former web host liable for damages.
A court in The Hague has found XS Networks guilty of facilitating copyright infringement by refusing to shut down a site it knew to be illegal.
The firm, which has ceased operations, used to rent its computer servers to the SumoTorrent website.
The ruling could create a "dangerous precedent", said the TorrentFreak blog.
SumoTorrent is unlikely to be affected because it moved its data to Ukraine before the case came to court, and continues to operate.
But Brein, which is the Dutch acronym for Protection Rights Entertainment Industry Netherlands, said it was still worth pursuing the case.
"We take down more than 600 sites a year - these are sites which give access to illegal content," Tim Kuik, the head of Brein, told the BBC.
"If the sites are unco-operative, we go to the hosting provider that has to take them down according to a Dutch law, which states that if a site [falls into the category of] 'evidently illegal sites', the hosting provider has to take it offline.
"What is new now is that the court has ruled that a hosting provider that doesn't act promptly becomes liable for damages."
Mr Kuik said that the case could serve as an example to other countries in the European Union and elsewhere.
"The most important issue was to get this principle established, to show that there are consequences for hosting providers.
"It is important throughout the EU, because even though this case is about law in the Netherlands, this law has direct implementation of the EU directive on these issues."
'Grey areas'
But file-sharing news site TorrentFreak warned that it was not always very clear whether a site had copyright-infringing content.
"The ruling is quite far-reaching because I don't think companies are supposed to make decisions about copyright," said TorrentFreak's editor Ernesto van der Sar.
"In this case it might have been clear, but there are a lot of grey areas where it's not so clear."
For example, he said, if someone uploaded a copyrighted video to a site such as YouTube, it should not be up to the hosting company to decide whether or not this video should be removed; it should be up to the court.
And even if the damages were not very high, he added, "web hosts won't be able to fight it now because if they lose a battle they will have to pay damages".
"It's probably not that big but it's not something you want your company to be involved in."
Before it closed in February, XS Networks put out a statement on its website, protesting its innocence.
"As you may know, the Dutch anti-piracy organisation Brein has sued us for alleged copyright intrusions of one of our clients," said the statement, which TorrentFreak provided to the BBC.
"We regret that they have chosen to make a spectacle of our last month in business.
"In our opinion there is nothing illegal about the websites that were hosted with XS Networks and are thankful for the warm messages from other webhosters and appreciation of our clients."