Carphone Warehouse leaks LG's Google Nexus 4 phone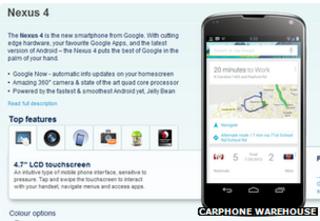 Carphone Warehouse has leaked the details of the next Google-branded smartphone days before it was supposed to have been announced.
The UK retailer posted pictures and full specifications of the Nexus 4 on its website.
A spokeswoman for LG - the device's South Korean manufacturer - was not aware of the issue when contacted by the BBC.
The pages were taken off the store's site shortly afterwards.
Carphone Warehouse later issued a statement saying: "Unfortunately a pre-order page for a new handset that we plan to range went live prematurely. We've now rectified this and apologise for any confusion caused."
The leak came ahead of a press event in New York on Monday which Google had said would be Android-themed.
Tech firms often use the element of surprise to build anticipation for their product launches.
Although unverified images of devices often appear on blogs in the run-up to such events, it is unusual for a large retailer to publish the full specifications of a product days in advance.
Neither Google nor LG were able to provide a comment.
Big screen
The deleted pages revealed that the Android-powered handset featured a 4.7in (10.2cm) display with a resolution of 320 pixels per inch.
That makes it roughly the same size as the best-selling Samsung Galaxy S3 and HTC One X handsets, but with a slightly higher pixel density. That should, in theory, mean more detail when watching films or other high-resolution content.
It also includes an 8-megapixel camera on its rear, is powered by a powerful quad-core Snapdragon processor made by Qualcomm and boasts a feature that lets it take "360-degree panoramic photos".
Although the pages are now offline, they can still be viewed using Google's own webpage cache feature on its search tool.
More to come?
Google may still have a few surprises left. There is speculation that it will also unveil tablets by other manufacturers next week. It already sells a tablet made by Taiwanese firm Asus.
The strategy to outsource production of devices has attracted attention since its own Motorola hardware unit, which does not make Nexus products, posted a $527m (£327m) operating loss in its third-quarter results.
The Carphone Warehouse incident is Google's second premature release in a week.
On 18 October, its shares were suspended after its profit figures were accidentally released during the New York trading day.
Its shares dived as a result, wiping $19bn off its share price before action was taken.