Pirate Bay appeal is rejected by Finnish supreme court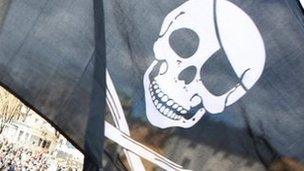 The Finnish supreme court has rejected a case from an ISP fighting an enforced ban of file-sharing website The Pirate Bay.
It marks the end of a long court battle between ISP Elisa and copyright bodies in the country.
The Pirate Bay, which offers links to pirated content, is now banned in the UK, the Netherlands, Italy and Finland.
Internet rights groups say the bans represent a worrying rise in levels of net censorship
ISP Elisa was one of the few ISPs in Europe to resist calls to ban The Pirate Bay.
In May 2011 the Finnish copyright information and anti-piracy centre, along with the IFPI, the group representing the global music industry, filed a lawsuit requesting the ban.
Elisa refused, but when the district court ordered it to block the domain names and IP addresses of the site, it began its censorship.
But it also launched an appeal, initially rejected by the Court of Appeal and now by the Supreme Court.
In the UK, the BPI, which represents the UK recording industry, is stepping up attempts to block sites and has sent letters to all of the major ISPs requesting that they instigate blocks against three other file-sharing websites - Fenopy, H33t and Kickass Torrents.
The increase in the number of countries banning The Pirate Bay and other torrent sites, is worrying thinks Jim Killock, chairman of the Open Rights Group.
"Web blocking does not seem to be reducing infringement but is aligning copyright industries with a policy of censorship. It is encouraging further calls of censorship and financing enhanced censorship technologies. Web censorship needs to be resisted and rolled back," he said.
There are differing views on how successful such bans are.
While the copyright industries suggest traffic to pirate linking sites has fallen substantially, ISPs suggest that their overall peer-to-peer traffic remains largely unaffected, as people find alternative services or different routes to banned websites.
Related Internet Links
The BBC is not responsible for the content of external sites.