Websites knocked offline by super-storm Sandy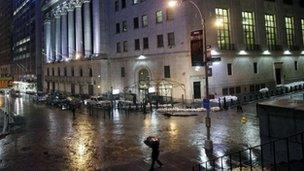 Americans affected by storm Sandy were unable to access some popular news and commentary websites as power cuts in Lower Manhattan knocked several offline.
Sites such as the Huffington Post, Gizmodo and BuzzFeed, along with all Gawker Media sites, were affected.
Many organisations tweeted that the culprit was a battery failure caused by flooding in a data centre.
The websites went down early on Monday evening as the storm hit.
Many came up with novel ways to deal with the power cut: the Huffington Post published updates on a special page, as well as on its Twitter and Facebook feeds.
The UK edition of the Huffington Post published a hand-drawn "low-tech" version of the website.
Gawker tweeted: "We're continuing to work on our servers and will be back online as soon as is possible. We miss you already. Stay dry."
It had previously blamed a crane: "The 57th Street Crane just flooded our servers with sea foam, or something."
Some content from Buzzfeed was back online via content delivery service Akamai, which has servers around the world.
Data centres forced to switch to the use of back-up generators warned that they might run out power.
Meanwhile a flurry of community-based websites has sprung up, offering advice for those affected by the storm.
Hurricane Hackers, a website from MIT's Media Lab which offers real-time information on projects related to the storm, has been receiving very high levels of traffic.
Projects outlined on the site include a map of places that need sand-bagging, ways for people to sign up and help, and after-storm parties, set up to raise money.
President Barack Obama has declared a "major disaster" in New York state after "super-storm" Sandy triggered devastating floods and cuts power to millions on the US east coast.
Related Internet Links
The BBC is not responsible for the content of external sites.