'Confusing' government websites face revamp in bid to save £1.8bn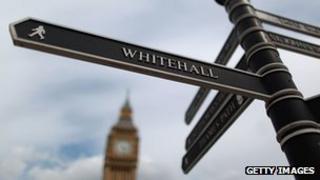 Plans to reduce the need for face-to-face government services by improving "confusing" online offerings in the UK have been announced.
The Government Digital Strategy report acknowledges that most people "rarely" use online government services.
Services which handle more than 100,000 "transactions" per year are to be completely overhauled.
The government expects the changes to save up to £1.8bn a year by 2015.
However, the costs of implementing the changes have not yet been outlined.
"A business case will be made for each of these services," a Cabinet Office spokesman said.
"So we won't be in a position to know costs until those cases have been assessed. The services will be identified and published in the departmental digital strategies alongside detailed delivery plans in December."
The report said that the average cost of an hour of government interaction "costs the average citizen £14.70".
"If just half an hour were saved by digitising every transaction currently completed offline," the document stated, "the total savings to the economy could therefore be around £1.8bn."
Redesigns of the busiest services - including HM Revenue & Customs and the Department for Work and Pensions - will begin in April 2013, the document said, with completion predicted for March 2015.
New or redesigned sites launching after April 2014 will be subject to set standards for consistent design and usability.
All must offer application programming interfaces (APIs) - which will allow third-parties to create useful tools and services, a similar approach to that of Facebook and Twitter.
'Costly for government'
The government classes "transactions" as anything involving "sharing information, requesting services, buying goods, asking for permission, or paying money".
It is estimated that more than 1.5 billion transactions of this type are made every year - with the majority being done either face-to-face or over the telephone.
In 2011, more than 150 million calls in 2011 were classed as "avoidable" and "costly for government".
A study of local councils put the cost of face-to-face transactions at £8.62, transactions via telephone at £2.83 - but only 15p for transactions via a website.
While millions in the UK have taken to carrying out key tasks online - such as shopping and banking - relatively few have used the web for needs involving government.
"Until now government services have stood out by their failure to keep up with the digital age," wrote Francis Maude, Minister for the Cabinet Office, in a foreword to the strategy.
"While many sectors now deliver their services online as a matter of course, our use of digital public services lags far behind that of the private sector. For example while 74% of people use the internet for car insurance, only 51% renew car tax online."
The document blames a culture of creating "digitised versions of pre-digital business processes", as well as outdated methods of data gathering and sharing.
Driving tests, for example, still require examiners to fill in and file paper forms, "adding cost and delay for users that a truly end-to-end digital service could remove".
The Driving Standards Agency is to begin a trial using mobile devices for examiners in order to eliminate paper forms.