World of Warcraft pandas help boost Activision profits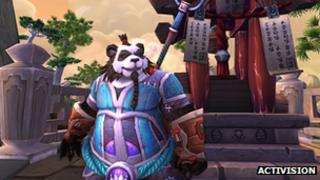 A revival in the number of World of Warcraft subscribers has boosted video games firm Activision's fortunes.
It has posted a $226m (£142m) net profit for the July to September quarter, 53% up on the previous year.
It said more than 10 million people were now paying to play WoW following the release of a panda-themed expansion pack. Numbers had previously dipped to 9.1 million players.
Activision's success contrasts with rival Electronic Arts' fortunes.
While Activision has raised its full-year forecast promising a "record-setting" year, EA has had to lower its outlook for the current period blaming its latest Medal of Honor and NBA Basketball games for having "disappointed" and its Star Wars: The Old Republic role-playing title for having "underperformed".
China competition
The WoW Mists of Pandaria expansion pack was released in September, offering players access to a new continent populated by pandas skilled in martial arts.
The theme may have helped its success in China where the firm said it now had more than one million users.
It now plans to build on this success with a Battle.net World Championship event in Shanghai next week featuring dozens of WoW and Starcraft pro-gamers.
Looking forward, the company said it thought its first-person shooter Call of Duty: Black Ops 2 had "the potential to be biggest-selling game of all time", despite launching a week after Microsoft's well-reviewed Xbox-title Halo 4.
Activision also highlighted the success of its Skylanders franchise - a series aimed at children in which add-on toys unlock new characters and content.
"Skylanders have become one of the world's most popular kids' brands and is on track to become another billion-dollar franchise for the company," Activision Publishing's chief executive Eric Hirshberg told analysts, according to financial site Seeking Alpha.
"Toys have been in existence since the beginning of time, and video games are a pretty healthy industry, and we brought the two together in an unprecedented way. So we feel very bullish about the long-term potential of the franchise."
Weak reviews
Activision's success comes against a difficult backdrop. A recent study by NPD suggested that overall video game sales in the US - the industry's biggest market - were down by 18% in the year to September.
Although Activision acknowledged this was a "challenging" trend, it noted that it did not apply to the top five titles which still showed about 15% growth once toy and accessories sales were figured in.
It does, however, pose problems for badly reviewed titles as EA has found.
The PlayStation version of its latest first-person shooter, Medal of Honor: Warfighter, has attracted only a 56% score on review aggregator Metacritic.
"We're disappointed with the critical reception," Frank Gibeau, president of EA Labels, said last week.
"Our internal testing and mock reviews indicated that the game is better than the actual score that we have right now and we believe that it is. However, we are seeing some folks out there that just don't like the game."
The firm acknowledged that its forecast for the current quarter was "soft" as a consequence, but suggested that its racing title Need For Speed Most Wanted would help compensate for the disappointment.
Despite EA's problems one industry watcher said it was not necessarily in a weaker position than its competitor.
"Activision is different from Electronic Arts as it chases profit more while EA has made massive investments to grow market share," Christopher Dring, associate editor of games trade magazine MCV, told the BBC.
"If the industry now goes more into mobile and free-to-play models then EA could be better placed to chase it, but if the next generation of consoles does revive interest in sales of disk-based games then Activision might be better off - though titles like Fifa and Battlefield mean EA should still do well."